THE PRIVILEGES OF MEMBERSHIP



Music is a beautiful art – if not the greatest of all arts. It's the kind of beauty that lives in time and space, and in each performance over and over again.... Some people have got to preserve the beauty of the past. It's important to preserve the past, because you can't have a present and a future if you have no past.
Bernard Herrmann, 1970
With the advent of sound pictures, movie music became a unique contribution to our cultural heritage. But during the final days of the Hollywood studio system, countless film music recordings and manuscripts were destroyed by a shortsighted film industry, and those materials that did survive began falling prey to deterioration.

From this crisis came our passion for preservation, so that in years to come our children's children may enjoy this rich and enduring music. Preservation means more than saving manuscripts and recordings; it's about saving the artform's history, writings, photographs and spoken word. And it's about breathing life into the legacy through live performance.

Exciting things are happening at The Film Music Society, so please join us in the world of film and television music... past, present and future!

Our quarterly publication The Cue Sheet, distributed free to members only, has grown in stature and is receiving both critical and academic recognition. Our book publications such as Elmer Bernstein's Film Music Notebook, and Film Music 1 and 2, are considered essential literature for researchers, writers, students and film music enthusiasts. We have several upcoming publications, soon to be announced. Membership discounts are available for most of our books.

Our line of compact discs, featuring recordings of scores and songs restored from original production masters, will soon be expanding with releases including a never-before-heard interview with Miklós Rózsa, Jerrold Immel's music from Dallas and Knots Landing, the documentary music of Paul Sawtelle, and many other fascinating productions. Some of our CDs are available to members only; others include member discounts.

And under the presidency of composer David Newman, the FMS is now involved in a new arena, preserving Hollywood's music legacy through the live performance of film music in concert. FMS members will soon receive special invitations and discounts toward selected performances of music prepared for concert by the FMS.

Last but not least, the FMS is an incomparable source of information about film and television music. We receive inquiries by phone, letters and e-mails from all over the world, and we turn every stone in order to find answers to the most difficult questions. We offer our assistance throughout the entertainment industry to guide and assist in the placement of materials. Our services are free, and our projects are supported entirely by memberships, product sales and private donations.


WHO CAN BECOME A MEMBER



Anyone is welcome to be a member of The Film Music Society. Worldwide, our members come from diverse backgrounds, occupations and interests. What each of them have in common is an appreciation for the artform of film and television music. Your desire to recognize and celebrate its historical significance, and to support the Society's preservation and restoration efforts, will help preserve the music for generations to come.
HOW TO BECOME A MEMBER



With your tax-deductible donation of $50 ($75 international), you receive a year-long membership to the FMS that includes opportunities to buy merchandise sold solely through the FMS and available to members only, such as books, collectibles and CDs; a free subscription to The Cue Sheet quarterly journal; free members-only seminars and screenings; and special discount rates to conferences and Career Achievement Award events.

Your tax-deductible Underscore level donation of $100 provides the benefits of an annual membership, plus a free CD of a FMS restoration such as Music from CBS Westerns, The World War II Documentary Music of Dimitri Tiomkin, Conversation Piece: An Unvarnished Chat with Bernard Herrmann, and Miklós Rózsa's original 1942 score for Rudyard Kipling's Jungle Book. Or as an alternative, see composer Christopher Young's generous gifts available for joining at the $100 level or above.

Your tax-deductible Love Theme level donation of $250 not only provides you with a two-year membership and the CD, but you also receive a free FMS publication such as Elmer Bernstein's Film Music Notebook or companion collections Film Music 1 and 2.

With a generous tax-deductible donation of $1,000 at the Main Title Theme level, you enjoy a five-year membership, including all of the benefits mentioned above, plus honorable mention in Society event programs and an invitation to attend a Hollywood feature film scoring session.

If you appreciate the historical significance of motion picture music, please support our efforts to preserve it for generations to come. Contact us today by phone at (310) 820-1909 or e-mail at membership@filmmusicsociety.org.

Support The Film Music Society and be a part of film and television music... past, present and future!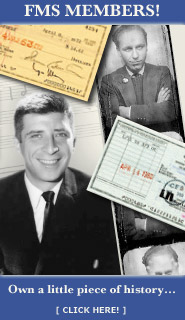 Special Features
Become a Member of The Film Music Society!


Publications
FMS-published Works and Recommended Reading



Members Discount


[Coming Soon]


Enjoy big discounts and special members-only items from the FMS Online Store




Going, Going, Gone!


[Coming Soon]


Participate in online auctions for rare and classic items



Buy, Sell, Trade


[Coming Soon]


Memorabilia from the silents and silver screen to special-edition videos and DVDs



FMS Public Service
Estate Preservation and Restoration—We can help!



An Appeal to Composers from Christopher Young
Preserve your music for future generations!