Last Updated: March 25, 2016

FMS FEATURE...


Craig Armstrong Receives ASCAP's Top Film Award

McCreary, Morricone, Wintory earn Composers' Choice Awards
by Jon Burlingame
BEVERLY HILLS, Calif.—Composer Craig Armstrong, whose music for Baz Luhrmann and Oliver Stone movies has catapulted him to prominence, was honored with the Henry Mancini Award by the American Society of Composers, Authors and Publishers (ASCAP) Thursday night at its 31st annual Screen Music Awards at the Beverly Hilton Hotel.

The Glasgow-born composer's films include Luhrmann's Romeo + Juliet, Moulin Rouge! and The Great Gatsby; Stone's World Trade Center and Wall Street: Money Never Sleeps; and such other films as Love Actually, The Quiet American, Ray and Far From the Madding Crowd. Stone, who presented the award, said "he sees beyond the ordinary" and called him "one unassuming Scot."
...Continued >>>
FMS FEATURE...


Morricone Wins Oscar Music Gold At Last

Bond song earns victory for Sam Smith, Jimmy Napes
by Jon Burlingame
HOLLYWOOD—Veteran composer Ennio Morricone won his first competitive Oscar, and songwriters Sam Smith and Jimmy Napes scored an upset win with their James Bond song, during Sunday night's 88th annual Academy Awards ceremony at the Dolby Theatre in Hollywood.

The Italian maestro, who was nominated five times previously and received an honorary career-achievement Oscar in 2007, won for his music from Quentin Tarantino's The Hateful Eight. Through an interpreter, he thanked Tarantino and producer Harvey Weinstein, and also singled out "the esteemed John Williams" among his fellow nominees.
...Continued >>>
FMS FEATURE...


Ray Colcord: An Appreciation

Prolific television composer left a legacy of public service
by Jon Burlingame
STUDIO CITY, Calif.—Ray Colcord, who died on Friday at age 66, wasn't your average TV composer.

Yes, he scored more than 700 hours of prime-time TV, including the themes for the long-running 227 and Boy Meets World. Yes, he scored episodes of everything from Facts of Life and Dinosaurs to The Simpsons and Touched By an Angel. And yes, at the time of his death he was still scoring shows like Girl Meets World.
...Continued >>>
FMS FEATURE...


Pianist Annette Kaufman Dies

Widow, biographer of violinist Louis Kaufman was 101
by Jon Burlingame
WESTWOOD, Calif.—Annette Kaufman, pianist and widow of legendary Hollywood violinist Louis Kaufman, died Monday at her home in Westwood. She was 101.

Mrs. Kaufman completed and edited her husband's autobiography, A Fiddler's Tale: How Hollywood and Vivaldi Discovered Me, published in 2003. A tireless supporter of his work and his legacy, she traveled the world to talk about him and to share their mutual passion for 20th-century art.
...Continued >>>
FMS FEATURE...


Downton Abbey: The Ultimate Collection
John Lunn's Emmy-winning music released in 2-CD set
by Jon Burlingame
HIGHCLERE CASTLE, Berkshire, England—The rise and fall of those urgent strings and that determined piano say it all: another installment of Downton Abbey is beginning.

John Lunn's music for writer Julian Fellowes' addictive period drama of Yorkshire aristocrats and their servants has won two Emmys and been nominated for a third. And now that the production is in its final season on PBS's Sunday-night showcase Masterpiece, Decca has thoughtfully released a 2-CD collection of music from all six seasons.
...Continued >>>
FMS FEATURE...


88th Annual Academy Award Nominations Announced

The Force Awakens Williams' 50th Oscar nom
by Jon Burlingame
HOLLYWOOD—Composer John Williams made Oscar history on Thursday by scoring his 50th Academy Award nomination for Star Wars: The Force Awakens, one of 10 films honored for their music by the Academy of Motion Picture Arts and Sciences.

The 83-year-old composer, who won one of his five Oscars for the original Star Wars in 1977, spent most of last year creating the music for J.J. Abrams' blockbuster seventh film in the space-opera series launched by George Lucas. Williams has scored all seven films. He is also the most-nominated living individual at the Oscars.
...Continued >>>
FMS FEATURE...


Spotlight on Howard Shore's Score

Piano-driven chamber music propels journalism film
by Jon Burlingame
HOLLYWOOD—Movies about journalism have inspired a handful of great scores: David Shire's intriguing, dramatic music for Watergate reporters Woodward and Bernstein in All the President's Men; Randy Newman's rhythm-driven The Paper; Elmer Bernstein's jazzy, seedy-Manhattan Sweet Smell of Success; and Bill Conti's energetic, piano-and-strings Broadcast News.
...Continued >>>
FMS FEATURE...


Classic Film Music on Disc: The Best of 2015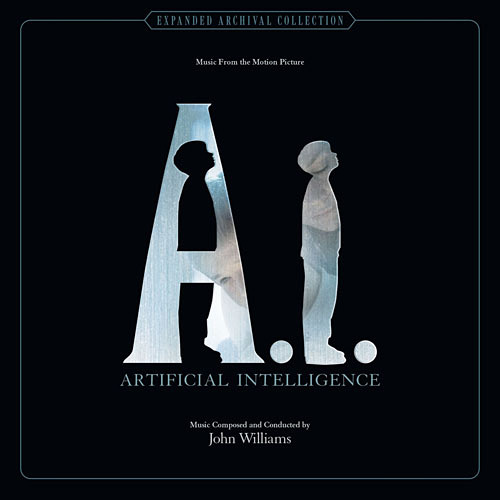 Barry, Schifrin, Goldsmith, Williams scores among top releases
by Jon Burlingame
For fans of classic movie and TV music, 2015 was another banner year – re-releases, re-recordings and premier releases of scores by great composers of the past and present. Among our favorites, listed alphabetically:
...Continued >>>
FMS FEATURE...


Quincy Jones honored by SCL

Jewison, Bergmans, Grusin, Poitier attend holiday event
by Jon Burlingame
LOS ANGELES—More than 300 members of the Society of Composers & Lyricists turned out to honor Quincy Jones with its Lifetime Achievement Award Tuesday night, Dec. 15, at the Skirball Cultural Center in Los Angeles.
...Continued >>>
FMS FEATURE...


James Newton Howard honored in Vienna, Austria

Presented with Max Steiner Award during gala concert and festival
by Jon Burlingame
VIENNA—American composer James Newton Howard was awarded Hollywood in Vienna's coveted "Max Steiner Award" for exceptional achievements in the art of film music on Friday, Oct. 16, at the Vienna Concert Hall.
...Continued >>>
FMS FEATURE...


John Debney, Conrad Pope Honored by ASMAC

Arrangers' Society presents Golden Score Awards to respected composers
by Jon Burlingame
LOS ANGELES—A who's-who of Hollywood music royalty turned out Thursday night as the American Society of Music Arrangers and Composers honored composers John Debney and Conrad Pope with their annual Golden Score Awards at the Skirball Center.

Nearly 250 attended, including past Golden Score recipients Randy Newman, Patrick Williams and Bill Holman, along with recent Emmy nominees Bruce Broughton and William Ross. ASMAC president Chris Walden welcomed the crowd, noting that the organization dates back to 1938 and continues to support today's young musicians via workshops and scholarships.
...Continued >>>
FMS FEATURE...


Beal Wins Emmy for House of Cards score

Portman, O'Halloran also win Emmys for music
by Jon Burlingame
LOS ANGELES—Newcomers to the Emmy ranks dominated the music categories during Saturday night's presentation of the Creative Arts Emmy Awards at the Microsoft Theater at LA Live.

Aside from Jeff Beal, who won his fourth Prime-Time Emmy for his music for the Netflix series House of Cards, all of Saturday's winners were first-time Emmy recipients (and all but one of those won on their first nomination).

Beal's House of Cards win marked his first for that series. This was his fourth nomination for the acclaimed Kevin Spacey political drama, having been acknowledged for music in each of its three seasons plus his main title theme. (His previous wins were for the theme for Monk, and the scores for limited series The Company and Nightmares & Dreamscapes.)
...Continued >>>
FMS FEATURE...


E.T., the Extra-Terrestrial Live at the Bowl

David Newman conducts Los Angeles Philharmonic in John Williams' iconic score
by Jon Burlingame
HOLLYWOOD—More than 35,000 watched and listened as Steven Spielberg's classic E.T., the Extra-Terrestrial unspooled with David Newman conducting the Los Angeles Philharmonic in John Williams' Oscar-winning score during three weekend performances at the Hollywood Bowl.

It may have been the greatest complete live-to-picture concert ever staged at the Bowl. The cheers and sustained applause (multiple bows by Newman and the Philharmonic at the end of each performance) demonstrated a surprising level of audience appreciation. Unlike Back to the Future or 2001: A Space Odyssey, both of which were screened with live music recently at the Bowl, this was less of a party atmosphere as the audience (especially Sunday night) seemed completely enthralled.
...Continued >>>
FMS FEATURE...


Film, TV composer John Cacavas honored

Late Kojak, Airport 1975 composer's scores donated to USC Cinematic Arts Library
by Jon Burlingame
LOS ANGELES—Film and television composer John Cacavas was celebrated at a reception Sunday afternoon at the USC School of Cinematic Arts, which has acquired the Kojak composer's scores for its library. Nearly 150 attended.

Cinematic Arts School Dean Elizabeth M. Daley called him "one of television history's most accomplished composers," citing such familiar TV credits as Kojak, Matlock, Columbo, Hawaii Five-0, The Executioner's Song and Confessional. He also scored films including Horror Express, Airport 1975 and Airport '77. Cacavas died in January 2014.
...Continued >>>
FMS FEATURE...


2001: A Space Odyssey Live at the Bowl

LA Phil and Master Chorale perform score to Kubrick's classic film
by Jon Burlingame
HOLLYWOOD—Stars overhead, and celestial beauty on the big screens in the Cahuenga Pass: An estimated 11,000 watched as the Los Angeles Philharmonic played, live-to-picture, the classical-music score of 2001: A Space Odyssey Tuesday night at the Hollywood Bowl.
...Continued >>>
FMS FEATURE...


Disney in Concert: A Silly Symphony Celebration

Maltin hosts, Fox conducts landmark live-to-picture cartoonfest
by Jon Burlingame
ANAHEIM, Calif. - An estimated 4,000 Disney fans got to see six classic Silly Symphony cartoons with live musical accompaniment at the D23 Expo Sunday at the Anaheim Convention Center.

D23 organizers wisely scheduled two identical 70-minute concerts (at 11 a.m. and 2 p.m.) to accommodate the anticipated crowds. Film historian and Disney expert Leonard Maltin hosted both, which featured a 32-piece orchestra conducted by Steven Allen Fox.
...Continued >>>
FMS FEATURE...


Disney's Snow White Score Published

Lavish book highlights studio's music preservation efforts
by Jon Burlingame
BURBANK, Calif.—The début publication of the original score for Snow White and the Seven Dwarfs offers a tangible reminder of the value of music in films, and how much of our cultural history is in danger if we don't properly preserve it.

Snow White and the Seven Dwarfs Master Score has just been released in what publisher Hal Leonard calls a "one-of-a-kind, hand numbered, limited edition" of 400. (At $300, it will appeal mostly to collectors, educators and Disney enthusiasts.) But it is so unusual for a studio to release an actual musical score – especially one of major historical value – that it's worth more than a casual look.
...Continued >>>
FMS FEATURE...


Daniel Pemberton: Music for The Man From U.N.C.L.E.

English composer's '60s sounds propel big-screen spy adventure
by Jon Burlingame
When moviegoers hear the music for the film adaptation of the TV spy classic The Man From U.N.C.L.E., one thing will be clear: It sounds like the '60s.

English composer Daniel Pemberton has managed to match, musically, the stylish look that director Guy Ritchie has achieved with his long-awaited big-screen take on the 1964-68 series. The mood, tone and colors all involve vintage sounds from 50 years ago, with recording techniques to match.
...Continued >>>
FMS FEATURE...


Anne Dudley's Music for Poldark

Soundtrack for PBS drama debuts in top 10
by Jon Burlingame
Poldark, which has already become a sensation in the U.K., is nearing its conclusion on PBS's Masterpiece in the U.S. But while Ross Poldark will disappear from American screens after Aug. 2, one aspect of the production will continue to resonate with viewers: Anne Dudley's masterful, evocative music for the eight-part series.

The newly issued Sony Classical album has just debuted in the top 10 on Billboard's classical-crossover chart, and in the top 20 on its classical-album chart.
...Continued >>>
FMS FEATURE...


The Marvel Super Heroes Songs: The Inside Story

Jack Urbont's toon classics still resonate with boomers today
by Jon Burlingame
HOLLYWOOD—These days, movies and TV shows based on Marvel Comics characters are wildly popular, earning literally billions at the box office.

But back in the 1960s, when Marvel heroes like The Fantastic Four, The Amazing Spider-Man and The X-Men were just beginning to gain pop-culture traction, an enterprising outfit called Grantray-Lawrence Animation turned five Marvel heroes into a cartoon series that enjoyed syndication success for a year or two.
...Continued >>>
FMS FEATURE...


Alexander the Great and Other Rare Rosenman
Combat!, Alexander the Great, Sybil among rescued TV recordings
A

cademy Award- and Emmy-winning Leonard Rosenman (1924-2008) – celebrated composer of East of Eden, Rebel Without a Cause, Fantastic Voyage and Star Trek IV: The Voyage Home – also wrote music for other media.

The Film Music Society, the entertainment industry-based preservation group, has recently rescued and restored some of Rosenman's music from four historic television productions and a theme park attraction, and is releasing these archival recordings on a 76-minute CD called Alexander the Great and Other Rare Rosenman.
...Continued >>>
FMS FEATURE...


Index for The Cue Sheet Journal

Quarterly publication is a well-established source of film music articles, news and historical information
A

comprehensive index for The Cue Sheet, the quarterly journal of The Film Music Society, is now available on-line at the FMS web site.

From its initial publication as a multi-page mimeograph in January 1984, The Cue Sheet has grown to be among the most highly respected sources for articles and essays on the subject of film and television music.

The journal's content ranges from biographical essays and in-memoriam tributes to articles on contemporary issues, opinion pieces and book reviews, featuring the works of such notable journalists and historians as Fred Steiner, James Lipton, John Caps, Tony Thomas, Rudy Behlmer, Clifford McCarty, Jon Burlingame, Steven Smith and Ross Care, among others.
...Continued >>>
FMS FEATURE...


Music and the Moving Image

UIP, NYU and FMS combine efforts for premiere on-line scholarly journal
T

he University of Illinois Press, in conjunction with New York University Steinhardt School's Department of Music & Performing Arts Professions and The Film Music Society, has published Music and the Moving Image, a premiere online scholarly journal dedicated to the relationship between music and the wide spectrum of moving images, from film and television to computer and interactive performance.

Music and the Moving Image will be issued three times annually (spring, summer, fall). Volume 1 (Spring 2008) will receive its inaugural launch on February 29 at http://mmi.press.uiuc.edu/.

Leading an impressive editorial board of educators and music professionals, executive editors conductor/musicologist Gillian B. Anderson and Director of the Film Music program at NYU/Steinhardt Ronald H. Sadoff will consider submissions from both scholars and practitioners. All papers will be accepted for inclusion in the journal based upon a peer-review process. Although the journal will be published in English, international diversity is encouraged. Visit Call for Papers/Submission Guidelines for more information.

Annual individual subscriptions are available for $30 (a special Film Music Society membership rate is $21), and the institutional rate is $60. An order form is available HERE or through the journal web site.



Print this article
FMS FEATURE...


The Timeless Melodies of David Raksin

Rare sheet music folio now available through The Film Music Society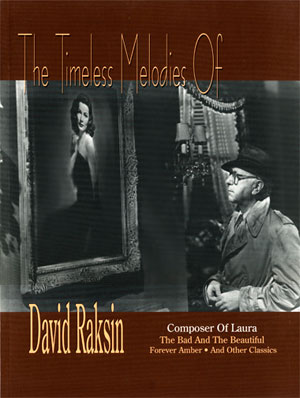 H

ad David Raksin written nothing but the immortal "Laura," it would have been measure enough of his incomparable talent for melody and harmony.

But the composer of scores for such Hollywood classics as Forever Amber, The Bad and the Beautiful and Separate Tables had also written a treasure trove of songs. He shared his favorites in a collection called The Timeless Melodies of David Raksin.

Originally published by Ekay Music in 1996, this extraordinary 112-page, 9" x 12" collection of sheet music has long been out of print and hard to find.

A number of years ago, Raksin donated a few copies of this songbook to The Film Music Society for fundraising, and we are happy to offer them for purchase while the supply lasts.
...Continued >>>
FROM FMS RESTORATIONS......


Rózsa's Jungle Book Available in Short Supply!

FMS releases rare score in celebration of the composer's centenary
I

n celebration of Miklós Rózsa's centennial year, The Film Music Society is proud to re-release Rózsa's historic score for the 1942 classic motion picture, Rudyard Kipling's Jungle Book. Nearly two years ago, this popular CD was sold out of its Limited Edition release, and the FMS archived the manufacturer's overage. Due to popular demand by members and nonmembers alike, we decided to celebrate Rozsa's centenary by making our surplus copies available for purchase.

Rózsa's music shines on this CD in a way it never has before. Featuring lengthy and authoritative liner notes by Golden Age film expert Rudy Behlmer, this is an album you won't want to miss, skillfully restored and remastered from the last surviving transcription discs. As a bonus track, we've included an excerpt of a rare interview with Rózsa discussing his score with Behlmer in 1974.
...Continued >>>
FMS FEATURE...


Conversation Piece: An Unvarnished Chat with Bernard Herrmann
FMS restores recording of never-before-released 1970 interview
F

ilm music preservation is not just about saving music manuscripts and recordings. It's also about saving the artform's history through writings, photographs and, in rare opportunites, the spoken word.

The Film Music Society is pleased to present its newest CD release, Conversation Piece: An Unvarnished Chat With Bernard Herrmann.

On September 26, 1970, Leslie Zador (the son of orchestrator Eugene Zador) and Gregory Rose from classical radio station KFAC interviewed Herrmann in his North Hollywood home on behalf of the Los Angeles Free Press. The interview was transcribed and an article appeared in the Free Press about a month later. Soon after, the sole recording of the interview was stowed away for more than 35 years.

Excerpts of the original transcript were published in the Society's anthology Film Music 1 (1989). The audio tape was recently retrieved and generously donated by Zador to the FMS for historic preservation. Now, with permission from the interviewers and Herrmann's wife Norma Shepherd, this newly restored recording of one of Hollywood's most revered composers will soon be available on CD in its entirety (with the exception of a few imprudent remarks).
...Continued >>>
RESTORATION CD SERIES...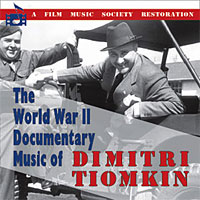 The World War II Documentary Music of Dimitri Tiomkin now available!

Tracks Include:

Click select links to hear sample audio tracks.
TUNISIAN VICTORY (1944)
1. 1M1/1M2 2:29
2. 1M3 :51
3. 1M5 2:30
4. 1M8 (outtake) 1:05
5. 3M1 (outtake) 1:02
6. 3M3/3M4 1:34
7. 3M7 (partial outtake) 1:45
8. 8M5 (partial outtake) 2:45


SAN PIETRO (1945)
9. M11 (partial outtake) 2:28
10. M12 1:54
11. M13 (partial outtake) 1:48
12. M14 (outtake) :41
13. M21 (partial outtake) 2:25
14. M22 (partial outtake) 1:41
15. M24 2:08
16. M42 2:11
17. M43 (outtake) 2:04
18. M50 3:39
19. M52 2:43


THE NEGRO SOLDIER (1944)
20. 1M1/1M2 1:32
21. 1M3 (outtake) :28
22. 1M4 (partial outtake) :32
23. 2M1 1:33
24. 2M2/2M2A/2M2AA 1:38
25. 3M7 (outtake) :38
26. 3M10A :28
27. 4M5 1:01
28. 4M6 3:09
29. 5M2 1:35
30. 5M3 1:23


THE BATTLE OF RUSSIA (1943)
31. 1M1 1:28
32. 1M2/1M3 1:19
33. 1M4 1:11
34. 1M6 :34
35. 1M8 :39
36. 2M1 1:52
37. 2M4/2M6 (partial outtake) :53
38. 2M8/2M8A (alt. Version) :38
39. 3M1 2:50
40. 3M3 1:07
41. 4M2 (partial outtake) 2:09
42. 5M1 (outtake) 1:58
43. 5M3 1:43
44. 5M4/5M5 1:25
45. 6M1 (outtake) 1:48
46. 9M1/9M2 1:44
47. 9M3/9AM1/9AM2 3:18
T
he Film Music Society is pleased to offer previously unreleased recordings of eminent film composer Dimitri Tiomkin's scores from four historically significant World War II documentary features.

The World War II Documentary Music of Dimitri Tiomkin includes nearly 79 minutes of Tiomkin's music from the Army orientation films of producer Frank Capra – The Battle of Russia (1943), Tunisian Victory (1944), The Negro Soldier (1944) and San Pietro (1945) – ranging in style from inspiring military marches to themes that underpin the despair of war, from American gospel and jazz to traditional Russian folk melodies, from the modern beat of the big band to the classical strains of Tschaikovsky and Rachmaninoff.

The recordings in this collection originated from 16-inch acetate transcription discs owned by Tiomkin, which were transferred to 1/4-inch magnetic tape in the mid-1980s by innovative recording engineer Bob Auger. The tapes remained in the possession of Tiomkin's wife Olivia until earlier this year when they were transferred to digital format for restoration and inclusion on this CD.

Accompanying these recordings is a deluxe 16-page booklet containing never-before-seen photographs and authoritative liner notes by Tiomkin expert Warren Sherk.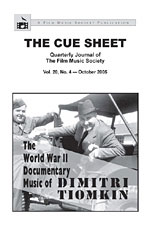 The World War II Documentary Music of Dimitri Tiomkin is a Limited Edition, with only 1,000 copies manufactured. It is available to the public for $20 plus s/h. If you would like to order your copy, please contact us or visit the Merchandise page for more information. But hurry! Stock is running low. The FMS quarterly journal, The Cue Sheet, Vol. 20, No. 4 (October 2005), features an extended version of Warren Sherk's informative liner notes for this important restoration. The issue is available for $7.50 plus s/h, or $6 if purchased with the CD.



Print this article
FROM FMS RESTORATIONS...



FROM FMS PUBLICATIONS...



THE FILM MUSIC SOCIETY NEWSLETTER...


Bookmark this page.
The periodic newsletter, previously sent by US mail exclusively to FMS members, is now right here on the News & Events page of this website. Each Friday, this online version of the newsletter provides the latest industry information; membership announcements; upcoming events; newsworthy articles; and an occasional series we call Da Capo, offering historical articles related to film and TV music.

Freelance submissions: Newsworthy information and film/TV music-related articles may be submitted for consideration to editor@filmmusicsociety.org. The FMS is under no obligation to publish and/or otherwise utilize submissions or any portions thereof. The FMS is a nonprofit 501(c)(3) charitable organization, supported solely by private donations. No remuneration is available for submissions.




First-timers and veterans share spotlight for 67th annual awards
Silvestri score performed by L.A. Phil to cheering crowd
Titanic composer mourned, remembered, eulogized
Mark Watters conducts classic toons live-to-picture for sold-out fundraiser at historic movie palace
Veteran TV composer left musical legacy for the boomer generation
Disney exec Chris Montan also honored at Film-TV Awards
"A-Tisket, A-Tasket" writer honored by friends, family, colleagues
Beloved choral director, vocal arranger dead at 96
Shirley Walker Award presented to Deborah Lurie
Julie Andrews, John Williams, Leslie Bricusse pay tribute to close friend, colleague
Italian maestro to conduct orchestra, choirs in Santa Monica
Pianist Gloria Cheng presents new solo works by Williams, Broughton, Desplat, Newman, Davis and Giacchino
Rota's award-winning score will be conducted live to picture at L.A.'s Nokia