Last Updated: August 1, 2018

FMS FEATURE...


Patrick Williams: An Appreciation

Beloved music man left incomparable legacy
by Jon Burlingame
The death of Patrick Williams last week left a painful void in American music. Renowned jazz bandleader, distinguished composer for films and television, sought-after arranger for top vocalists, he did it all. A Grammy and Emmy winner, nominated for both the Academy Award and the Pulitzer Prize in music, Williams was among the most accomplished and respected of composers in modern media.
...Continued >>>
FMS OBITUARY...


Danish Film Composer Søren Hyldgaard Dead at 55

Highly respected musician achieved success in film, new age realms
by Jon Burlingame
COPENHAGEN, Denmark—Award-winning Danish film composer Søren Hyldgaard died Monday, May 7, of complications from diabetes. He was 55.
...Continued >>>
FMS FEATURE...


Lalo Schifrin Honored by SACEM

Jean-Michel Bernard tributes Schifrin in performance at Steinway
by Jon Burlingame
BEVERLY HILLS, Calif.—Veteran composer Lalo Schifrin was honored for his long and distinguished career by the French performing-rights society SACEM Thursday night in Beverly Hills.
...Continued >>>
FMS FEATURE...


Desplat Gets Oscar Win in Shape

Lopez team hits gold with "Remember Me"
by Jon Burlingame
HOLLYWOOD—Alexandre Desplat, Robert Lopez and Kristen Anderson-Lopez took top musical honors at the 90th annual Academy Awards ceremony Sunday night at the Dolby Theatre.

Desplat won for his romantic music for The Shape of Water, the Lopezes for their song "Remember Me" from Coco. It was a second Oscar win for all of them: Desplat won three years ago for The Grand Budapest Hotel, while the Lopezes won four years ago for their hit "Let It Go" from Frozen.
...Continued >>>
FMS FEATURE...


Oscar in Concert

Motion Picture Academy joins L.A. Phil in tribute to film music past, present and future
by Jon Burlingame
LOS ANGELES—Wednesday night's Oscar concert must qualify as one of the most unusual nights of music ever presented by the Los Angeles Philharmonic at Walt Disney Concert Hall.
...Continued >>>
FMS FEATURE...


Classic Film Music on Disc: The Best of 2017
Williams, Goldsmith, Mancini, Copland among top recordings
by Jon Burlingame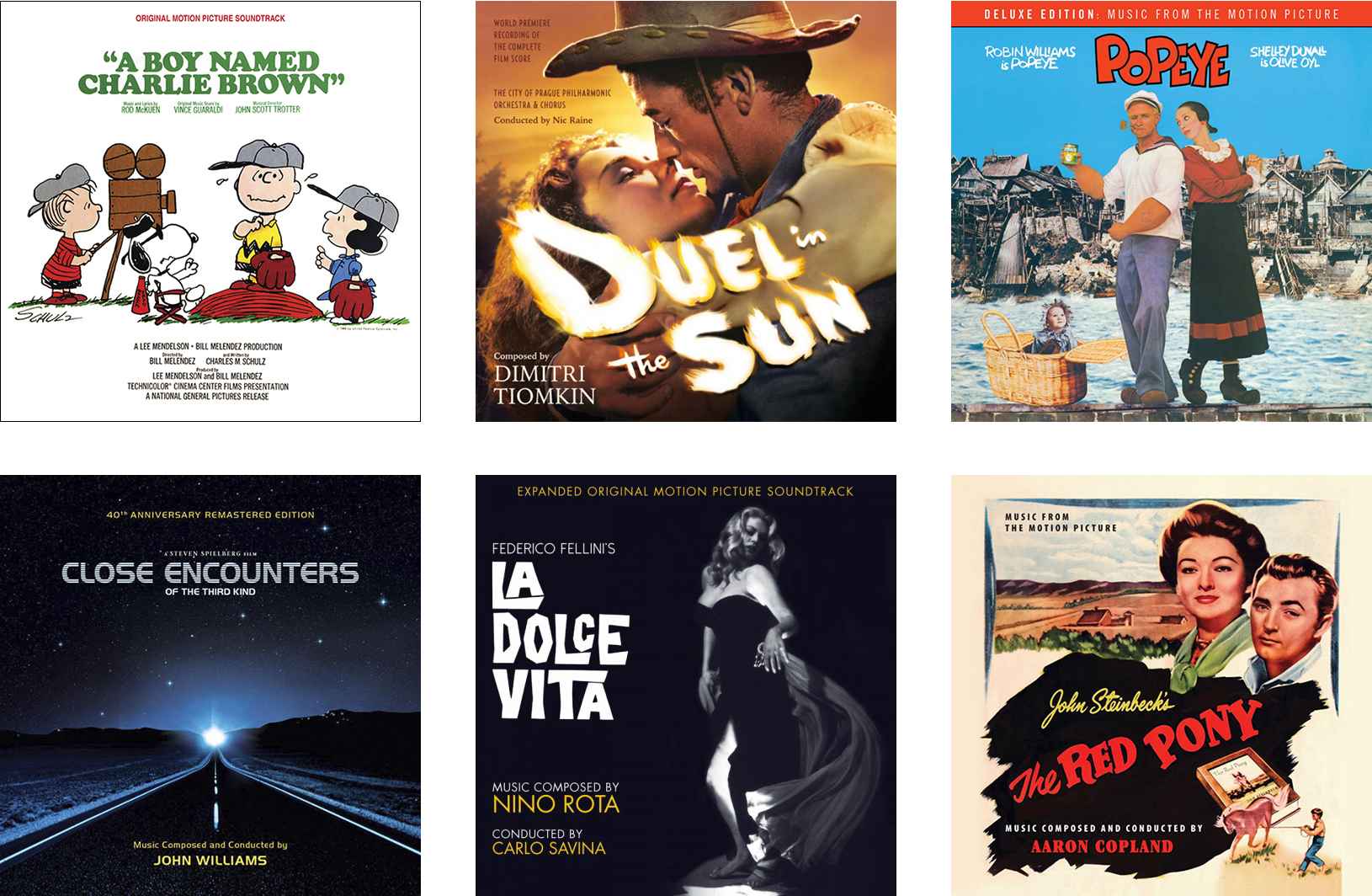 For fans of classic movie music, 2017 was another banner year, for expanded versions of beloved soundtracks; initial releases of long-desired scores; and even re-recordings of classics. Advances in technology have made ancient recordings sound remarkably fresh, and a handful of unexpected, where-did-they-find-this? albums were cause for joy. Among our favorites of the past 12 months, listed alphabetically:
...Continued >>>
FMS FEATURE...


Broughton, Edelman honored by Society of Composers & Lyricists

"Score" editor Lori Barth also feted at holiday dinner
by Jon Burlingame
LOS ANGELES—Veteran film composers Bruce Broughton and Randy Edelman were honored as SCL Ambassadors during the Society of Composers & Lyricists' annual holiday dinner Tuesday night at the Skirball Cultural Center.
...Continued >>>
FMS FEATURE...


American Youth Symphony Performs E.T. Live to Picture

David Newman and Steven Linder honored as visionaries for film music in concert
by Marilee Bradford
LOS ANGELES—An estimated 1,400 watched, listened and shed tears as E.T., the Extra-Terrestrial unspooled while the American Youth Symphony performed John Williams' Oscar-winning music live to picture Sunday night at UCLA's Royce Hall.
...Continued >>>
FMS FEATURE...


Lalo Schifrin's 85th Birthday Concert

LA's finest musicians tribute beloved Mission: Impossible composer
by Jon Burlingame
GLENDALE, Calif.—"We've got a whole Lalo Schifrin goin' on," said producer Robert Townson, echoing the title of the composer's 1968 album, "and it just doesn't get any cooler than Lalo."
...Continued >>>
FMS FEATURE...


Newcomers Win Most Music Emmys

Beal wins fifth; Jacobs wins first music supervision award
by Jon Burlingame
LOS ANGELES—Original music from Fargo, House of Cards and Stranger Things won Emmy Awards over the weekend, as did a song and the music from two major programs dealing with the historical challenges facing African-Americans.

Jeff Russo won his first Emmy in the Composition for a Series category for an episode of Fargo; this was his third nomination for the FX series. Jeff Beal won his fifth prime-time Emmy in the Composition for a Limited Series category for "Chapter 63" of House of Cards; this was his fifth nomination and second win for the Netflix series.
...Continued >>>
FMS FEATURE...


Basketball's Kobe Bryant Joins John Williams at the Bowl

David Newman also conducts LA Phil in film music program
by Jon Burlingame
HOLLYWOOD—It isn't every day that legends from two such disparate worlds share the stage. But it happened Friday night at the Hollywood Bowl.

Composer John Williams, halfway through his annual concert with the Los Angeles Philharmonic, turned to the audience and talked briefly about a short film he scored earlier in the year: Dear Basketball, an animated adaptation of Los Angeles Lakers great Kobe Bryant's farewell poem to the sport he loves.
...Continued >>>
FMS FEATURE...


Kobe Bryant, John Williams Team Up On Dear Basketball

Glen Keane's animated short makes concert debut at the Bowl
by Jon Burlingame
LOS ANGELES—Dear Basketball, the animated short about Los Angeles Laker star Kobe Bryant with music by composer John Williams, makes its concert debut this weekend at the Hollywood Bowl. Williams will conduct it live-to-picture with the Los Angeles Philharmonic Friday, Saturday and Sunday nights.

As Williams explained recently: "Two to three years ago, I received a call from Kobe Bryant, asking if I would have lunch with him. I had known him, of course, as one of our country's greatest athletes. But as someone who had never seen a professional basketball game, I thought, 'Well, this is something quite extraordinary.'"
...Continued >>>
FMS FEATURE...


Raiders of the Lost Ark in Concert

David Newman conducts LA Phil in John Williams' classic score live-to-picture
by Jon Burlingame
HOLLYWOOD—An estimated 28,000 fans thrilled to the original adventures of Indiana Jones, set to a live performance of the original Raiders of the Lost Ark score, Friday and Saturday nights at the Hollywood Bowl.
...Continued >>>
FMS FEATURE...


Richard Bellis Honored by ASCAP

Cited for 20 years of mentoring its film-scoring workshop
by Jon Burlingame
LOS ANGELES—Composer Richard Bellis was honored for his two decades of leading the ASCAP Film Scoring Workshop during Monday night's recording session for this year's participants at the Newman Scoring Stage on the 20th Century-Fox lot.
...Continued >>>
FMS FEATURE...


Music Emmy Nominees Announced

Many first-timers; new music supervision category added
by Jon Burlingame
NORTH HOLLYWOOD, Calif.—More than half of this year's Emmy nominees in the music categories are first-timers for the Television Academy honors – in part because this marks the first year that music supervisors are eligible.
...Continued >>>
FMS FEATURE...


Doing Whatever A Spider Can!

Enduring popularity of classic Spider-Man cartoon theme reinforced in new movie
by Jon Burlingame
Fifty years ago, songwriters Bob Harris and Paul Francis Webster knocked out a theme for a Saturday-morning cartoon show. Neither could have predicted how popular it would become, nor how lucrative it would turn out to be for the songwriters.
...Continued >>>
FMS FEATURE...


Composer Walter Arlen's Return to Vienna

Protege Michael-Alexander Brandstetter Arranges Performance of "Song of Songs"
by Jon Burlingame
LOS ANGELES—In October, a major choral work will be performed in Vienna by a composer who left there 78 years ago, the result of a campaign by another Viennese composer who is more than 70 years his junior.
...Continued >>>
FMS FEATURE...


The Handmaid's Tale Finale Wows Fans

Adam Taylor's music for Hulu series performed live to picture
by Jon Burlingame
HOLLYWOOD—Nearly 1,000 fans of The Handmaid's Tale got a preview of the season finale Thursday night at the Montalban Theatre, as an orchestra played Adam Taylor's dramatic musical score live to picture.
...Continued >>>
FMS FEATURE...


Elmer Bernstein Music in Concert

Dublin, London events slated for June 14 and 18
by Jon Burlingame
LONDON—The music of Oscar-winning composer Elmer Bernstein will be celebrated in a pair of concerts this month in England and Ireland. Both will be conducted by the composer's son Peter Bernstein, and both will be hosted by veteran director John Landis.

The RTE Concert Orchestra will perform at Dublin's National Concert Hall on Wednesday, June 14, while the Royal Philharmonic Orchestra will perform at London's Royal Albert Hall for the second concert on Sunday, June 18 (coincidentally for Peter, Father's Day).
...Continued >>>
FMS FEATURE...


Jerry Goldsmith Day Declared in L.A.

Revered Hollywood composer receives star on Walk of Fame
by Jon Burlingame
HOLLYWOOD—Tuesday, May 9, was declared Jerry Goldsmith Day in Los Angeles, as the legendary composer of such classics as Planet of the Apes, Patton and Chinatown was postumously honored with a star on the Hollywood Walk of Fame.
...Continued >>>
FMS FEATURE...


The Rifleman Soundtrack Released

Herschel Burke Gilbert score long-awaited by fans
by Jon Burlingame
HOLLYWOOD—The Rifleman, one of TV's most beloved Westerns, finally has a soundtrack album. It only took nearly 60 years to happen.
...Continued >>>
FMS FEATURE...


Hans Zimmer's MasterClass

Top film composer launches online course
by Jon Burlingame
WEST HOLLYWOOD, Ca.—"Hans Zimmer Teaches Film Scoring" – the phrase alone is enough to cause double-takes around the room.
...Continued >>>
FMS FEATURE...


Alexander the Great and Other Rare Rosenman
Combat!, Alexander the Great, Sybil among rescued TV recordings
Academy Award- and Emmy-winning Leonard Rosenman (1924-2008) – celebrated composer of East of Eden, Rebel Without a Cause, Fantastic Voyage and Star Trek IV: The Voyage Home – also wrote music for other media.

The Film Music Society, the entertainment industry-based preservation group, has recently rescued and restored some of Rosenman's music from four historic television productions and a theme park attraction, and is releasing these archival recordings on a 76-minute CD called Alexander the Great and Other Rare Rosenman.
...Continued >>>
FMS FEATURE...


Index for The Cue Sheet Journal

Quarterly publication is a well-established source of film music articles, news and historical information
A comprehensive index for The Cue Sheet, the quarterly journal of The Film Music Society, is now available on-line at the FMS web site.

From its initial publication as a multi-page mimeograph in January 1984, The Cue Sheet has grown to be among the most highly respected sources for articles and essays on the subject of film and television music.

The journal's content ranges from biographical essays and in-memoriam tributes to articles on contemporary issues, opinion pieces and book reviews, featuring the works of such notable journalists and historians as Fred Steiner, James Lipton, John Caps, Tony Thomas, Rudy Behlmer, Clifford McCarty, Jon Burlingame, Steven Smith and Ross Care, among others.
...Continued >>>
FMS FEATURE...


Music and the Moving Image

UIP, NYU and FMS combine efforts for premiere on-line scholarly journal
The University of Illinois Press, in conjunction with New York University Steinhardt School's Department of Music & Performing Arts Professions and The Film Music Society, has published Music and the Moving Image, a premiere online scholarly journal dedicated to the relationship between music and the wide spectrum of moving images, from film and television to computer and interactive performance.

Music and the Moving Image will be issued three times annually (spring, summer, fall). Volume 1 (Spring 2008) will receive its inaugural launch on February 29 at http://mmi.press.uiuc.edu/.

Leading an impressive editorial board of educators and music professionals, executive editors conductor/musicologist Gillian B. Anderson and Director of the Film Music program at NYU/Steinhardt Ronald H. Sadoff will consider submissions from both scholars and practitioners. All papers will be accepted for inclusion in the journal based upon a peer-review process. Although the journal will be published in English, international diversity is encouraged. Visit Call for Papers/Submission Guidelines for more information.

Annual individual subscriptions are available for $30 (a special Film Music Society membership rate is $21), and the institutional rate is $60. An order form is available HERE or through the journal web site.



Print this article
FMS FEATURE...


The Timeless Melodies of David Raksin

Rare sheet music folio now available through The Film Music Society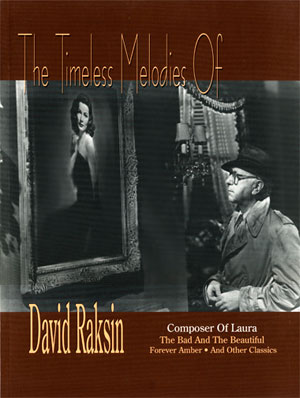 Had David Raksin written nothing but the immortal "Laura," it would have been measure enough of his incomparable talent for melody and harmony.

But the composer of scores for such Hollywood classics as Forever Amber, The Bad and the Beautiful and Separate Tables had also written a treasure trove of songs. He shared his favorites in a collection called The Timeless Melodies of David Raksin.

Originally published by Ekay Music in 1996, this extraordinary 112-page, 9" x 12" collection of sheet music has long been out of print and hard to find.

A number of years ago, Raksin donated a few copies of this songbook to The Film Music Society for fundraising, and we are happy to offer them for purchase while the supply lasts.
...Continued >>>
FROM FMS RESTORATIONS......


Rózsa's Jungle Book Available in Short Supply!

FMS releases rare score in celebration of the composer's centenary
In celebration of Miklós Rózsa's centennial year, The Film Music Society is proud to re-release Rózsa's historic score for the 1942 classic motion picture, Rudyard Kipling's Jungle Book. Nearly two years ago, this popular CD was sold out of its Limited Edition release, and the FMS archived the manufacturer's overage. Due to popular demand by members and nonmembers alike, we decided to celebrate Rozsa's centenary by making our surplus copies available for purchase.

Rózsa's music shines on this CD in a way it never has before. Featuring lengthy and authoritative liner notes by Golden Age film expert Rudy Behlmer, this is an album you won't want to miss, skillfully restored and remastered from the last surviving transcription discs. As a bonus track, we've included an excerpt of a rare interview with Rózsa discussing his score with Behlmer in 1974.
...Continued >>>
FMS FEATURE...


Conversation Piece: An Unvarnished Chat with Bernard Herrmann
FMS restores recording of never-before-released 1970 interview
Film music preservation is not just about saving music manuscripts and recordings. It's also about saving the artform's history through writings, photographs and, in rare opportunites, the spoken word.

The Film Music Society is pleased to present its newest CD release, Conversation Piece: An Unvarnished Chat With Bernard Herrmann.

On September 26, 1970, Leslie Zador (the son of orchestrator Eugene Zador) and Gregory Rose from classical radio station KFAC interviewed Herrmann in his North Hollywood home on behalf of the Los Angeles Free Press. The interview was transcribed and an article appeared in the Free Press about a month later. Soon after, the sole recording of the interview was stowed away for more than 35 years.

Excerpts of the original transcript were published in the Society's anthology Film Music 1 (1989). The audio tape was recently retrieved and generously donated by Zador to the FMS for historic preservation. Now, with permission from the interviewers and Herrmann's wife Norma Shepherd, this newly restored recording of one of Hollywood's most revered composers will soon be available on CD in its entirety (with the exception of a few imprudent remarks).
...Continued >>>
RESTORATION CD SERIES...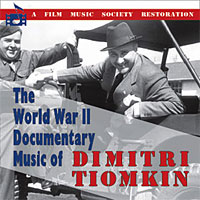 The World War II Documentary Music of Dimitri Tiomkin now available!

Tracks Include:

Click select links to hear sample audio tracks.
TUNISIAN VICTORY (1944)
1. 1M1/1M2 2:29
2. 1M3 :51
3. 1M5 2:30
4. 1M8 (outtake) 1:05
5. 3M1 (outtake) 1:02
6. 3M3/3M4 1:34
7. 3M7 (partial outtake) 1:45
8. 8M5 (partial outtake) 2:45


SAN PIETRO (1945)
9. M11 (partial outtake) 2:28
10. M12 1:54
11. M13 (partial outtake) 1:48
12. M14 (outtake) :41
13. M21 (partial outtake) 2:25
14. M22 (partial outtake) 1:41
15. M24 2:08
16. M42 2:11
17. M43 (outtake) 2:04
18. M50 3:39
19. M52 2:43


THE NEGRO SOLDIER (1944)
20. 1M1/1M2 1:32
21. 1M3 (outtake) :28
22. 1M4 (partial outtake) :32
23. 2M1 1:33
24. 2M2/2M2A/2M2AA 1:38
25. 3M7 (outtake) :38
26. 3M10A :28
27. 4M5 1:01
28. 4M6 3:09
29. 5M2 1:35
30. 5M3 1:23


THE BATTLE OF RUSSIA (1943)
31. 1M1 1:28
32. 1M2/1M3 1:19
33. 1M4 1:11
34. 1M6 :34
35. 1M8 :39
36. 2M1 1:52
37. 2M4/2M6 (partial outtake) :53
38. 2M8/2M8A (alt. Version) :38
39. 3M1 2:50
40. 3M3 1:07
41. 4M2 (partial outtake) 2:09
42. 5M1 (outtake) 1:58
43. 5M3 1:43
44. 5M4/5M5 1:25
45. 6M1 (outtake) 1:48
46. 9M1/9M2 1:44
47. 9M3/9AM1/9AM2 3:18
T
he Film Music Society is pleased to offer previously unreleased recordings of eminent film composer Dimitri Tiomkin's scores from four historically significant World War II documentary features.

The World War II Documentary Music of Dimitri Tiomkin includes nearly 79 minutes of Tiomkin's music from the Army orientation films of producer Frank Capra – The Battle of Russia (1943), Tunisian Victory (1944), The Negro Soldier (1944) and San Pietro (1945) – ranging in style from inspiring military marches to themes that underpin the despair of war, from American gospel and jazz to traditional Russian folk melodies, from the modern beat of the big band to the classical strains of Tschaikovsky and Rachmaninoff.

The recordings in this collection originated from 16-inch acetate transcription discs owned by Tiomkin, which were transferred to 1/4-inch magnetic tape in the mid-1980s by innovative recording engineer Bob Auger. The tapes remained in the possession of Tiomkin's wife Olivia until earlier this year when they were transferred to digital format for restoration and inclusion on this CD.

Accompanying these recordings is a deluxe 16-page booklet containing never-before-seen photographs and authoritative liner notes by Tiomkin expert Warren Sherk.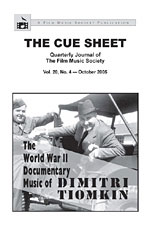 The World War II Documentary Music of Dimitri Tiomkin is a Limited Edition, with only 1,000 copies manufactured. It is available to the public for $20 plus s/h. If you would like to order your copy, please contact us or visit the Merchandise page for more information. But hurry! Stock is running low. The FMS quarterly journal, The Cue Sheet, Vol. 20, No. 4 (October 2005), features an extended version of Warren Sherk's informative liner notes for this important restoration. The issue is available for $7.50 plus s/h, or $6 if purchased with the CD.



Print this article
FROM FMS RESTORATIONS...



FROM FMS PUBLICATIONS...



THE FILM MUSIC SOCIETY NEWSLETTER...


Bookmark this page.
The periodic newsletter, previously sent by US mail exclusively to FMS members, is now right here on the News & Events page of this website. Each Friday, this online version of the newsletter provides the latest industry information; membership announcements; upcoming events; newsworthy articles; and an occasional series we call Da Capo, offering historical articles related to film and TV music.

Freelance submissions: Newsworthy information and film/TV music-related articles may be submitted for consideration to editor@filmmusicsociety.org. The FMS is under no obligation to publish and/or otherwise utilize submissions or any portions thereof. The FMS is a nonprofit 501(c)(3) charitable organization, supported solely by private donations. No remuneration is available for submissions.





Error: DISTINCT YEAR query failed