RESTORATION CD SERIES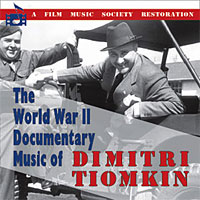 The World War II Documentary Music of Dimitri Tiomkin now available!

Tracks Include:

Click select links to hear sample audio tracks.
TUNISIAN VICTORY (1944)
1. 1M1/1M2 2:29
2. 1M3 :51
3. 1M5 2:30
4. 1M8 (outtake) 1:05
5. 3M1 (outtake) 1:02
6. 3M3/3M4 1:34
7. 3M7 (partial outtake) 1:45
8. 8M5 (partial outtake) 2:45


SAN PIETRO (1945)
9. M11 (partial outtake) 2:28
10. M12 1:54
11. M13 (partial outtake) 1:48
12. M14 (outtake) :41
13. M21 (partial outtake) 2:25
14. M22 (partial outtake) 1:41
15. M24 2:08
16. M42 2:11
17. M43 (outtake) 2:04
18. M50 3:39
19. M52 2:43


THE NEGRO SOLDIER (1944)
20. 1M1/1M2 1:32
21. 1M3 (outtake) :28
22. 1M4 (partial outtake) :32
23. 2M1 1:33
24. 2M2/2M2A/2M2AA 1:38
25. 3M7 (outtake) :38
26. 3M10A :28
27. 4M5 1:01
28. 4M6 3:09
29. 5M2 1:35
30. 5M3 1:23


THE BATTLE OF RUSSIA (1943)
31. 1M1 1:28
32. 1M2/1M3 1:19
33. 1M4 1:11
34. 1M6 :34
35. 1M8 :39
36. 2M1 1:52
37. 2M4/2M6 (partial outtake) :53
38. 2M8/2M8A (alt. Version) :38
39. 3M1 2:50
40. 3M3 1:07
41. 4M2 (partial outtake) 2:09
42. 5M1 (outtake) 1:58
43. 5M3 1:43
44. 5M4/5M5 1:25
45. 6M1 (outtake) 1:48
46. 9M1/9M2 1:44
47. 9M3/9AM1/9AM2 3:18
T
he Film Music Society is pleased to offer previously unreleased recordings of eminent film composer Dimitri Tiomkin's scores from four historically significant World War II documentary features.

The World War II Documentary Music of Dimitri Tiomkin includes nearly 79 minutes of Tiomkin's music from the Army orientation films of producer Frank Capra – The Battle of Russia (1943), Tunisian Victory (1944), The Negro Soldier (1944) and San Pietro (1945) – ranging in style from inspiring military marches to themes that underpin the despair of war, from American gospel and jazz to traditional Russian folk melodies, from the modern beat of the big band to the classical strains of Tschaikovsky and Rachmaninoff.

The recordings in this collection originated from 16-inch acetate transcription discs owned by Tiomkin, which were transferred to 1/4-inch magnetic tape in the mid-1980s by innovative recording engineer Bob Auger. The tapes remained in the possession of Tiomkin's wife Olivia until earlier this year when they were transferred to digital format for restoration and inclusion on this CD.

Accompanying these recordings is a deluxe 16-page booklet containing never-before-seen photographs and authoritative liner notes by Tiomkin expert Warren Sherk.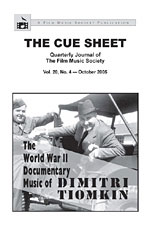 The World War II Documentary Music of Dimitri Tiomkin is a Limited Edition, with only 1,000 copies manufactured. It is available to the public for $20 plus s/h. If you would like to order your copy, please contact us or visit the Merchandise page for more information. But hurry! Stock is running low. The FMS quarterly journal, The Cue Sheet, Vol. 20, No. 4 (October 2005), features an extended version of Warren Sherk's informative liner notes for this important restoration. The issue is available for $7.50 plus s/h, or $6 if purchased with the CD.





Special Offer

For sale to members only!



David Raksin Remembers His Colleagues: Hollywood Composers
Published by The Stanford Theatre Foundation, 1st printing, 47 pp, softcover
Foreword by David W. Packard



©1995 David Raksin, All Rights Reserved



David Raksin Remembers His Colleagues: Hollywood Composers, is a collection of fascinating essays written by Mr. Raksin in association with a festival of classic film scores at the Stanford Theatre in Palo Alto, California in April 1995. This limited edition is now available for purchase only through The Film Music Society, and only by members!

Each essay offers candid insight into the life and career of some of the most important composers in film history – Aaron Copland, Hugo Friedhofer, Bernard Herrmann, Erich Wolfgang Korngold, Alfred Newman, Miklós Rózsa, Max Steiner, Dmitri Tiomkin and Franz Waxman, along with an autobiographical essay – all from Mr. Raksin's unique perspective.

A limited number of these books are available to members only for $20 plus s/h. Please call, write or email us to buy your copy.