FROM FMS RESTORATIONS...



SPFM Takemitsu Tribute CD

Limited edition made available as fundraiser to FMS members only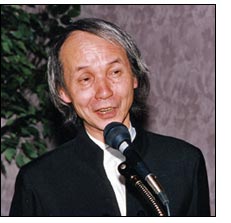 T he Society for the Preservation of Film Music Tribute: Film Music by Toru Takemitsu is an eclectic collection of rare movie tracks by one of Japan's most beloved and renowned contemporary film composers.

This limited edition of 350 copies was originally distributed by the SPFM as a gift to attendees at the Society's 1995 Career Achievement Award dinner honoring Takemitsu. Each CD is numbered, and there are just a few available for purchase. Accompanying the CD, each member will receive an original program from the Award dinner, which features a lengthy biography of Takemitsu (1930-1996).

Produced by Soundtrack Listeners Communications' Yasuhiro Wada on behalf of the SPFM (now the FMS), the Takemitsu Tribute CD includes selections from fourteen of his films – most or all of which are unavailable through any other legitimate source. Takemitsu's diverse musical styles are evident throughout the album, from the jazz stylings of The Inheritance (1962); the avant-garde percussion in Harakiri Seppuku (1962) and the lilting waltz of The Face of Another (1966); to the latin rhythms of A Marvelous Kid (1963); the haunting nature cries of Banished (1977); the sensual and mysterious Sharaku (1994); and the playful, spirited Alone on the Pacific (1963).

According to FMS President Christopher Young, "Toru was amazing. Here was this extraordinary concert composer who thoroughly defended film music as a valuable form of music making. He didn't write film music for the money. He wrote it to legitimize it as an art form."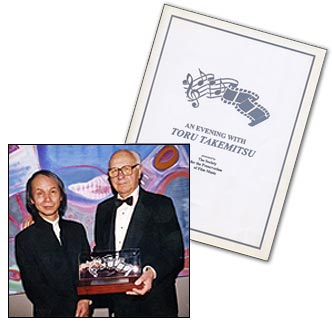 Composer David Raksin recently commented on the wide spectrum of Takemitsu's musical styles: "[It] bespoke of his interest in, and familiarity with, current aspects of the arts; but he was no mere compendium of styles. On the contrary, he seemed able to absorb the best of everything and to make it his own.... It was the passion he brought to bear on the art that brought it to life and deeply involved all who came within its purview."

Film Music by Toru Takemitsu CD (and accompanying Award dinner program) is being offered in support of the Society's efforts toward film music preservation. Half of its $50 price (plus s/h) is tax-deductible. Please visit the FMS Merchandise page for contact information.





Tracks:

Glowing Autumn (1978) 3:07
The Inheritance (1962) 2:14
Kwaidan (1964) 2:57
Harakiri (1962) 3:55
The Face of Another (1966) 6:18
Empire of Passion (1978) 2:55
Dodesukaden (1970) 3:50
Billowing Clouds (1967) 1:32
Time Within Memory (1973) 4:54
Alone on the Pacific (1963) 3:17
A Marvelous Kid (1963) 3:17
Silence (1971) 1:51
Banished (1977) 1:47
Sharaku (1994) 8:00



Special Offer

For sale to members only!



David Raksin Remembers His Colleagues: Hollywood Composers
Published by The Stanford Theatre Foundation, 1st printing, 47 pp, softcover
Foreword by David W. Packard



©1995 David Raksin, All Rights Reserved



David Raksin Remembers His Colleagues: Hollywood Composers, is a collection of fascinating essays written by Mr. Raksin in association with a festival of classic film scores at the Stanford Theatre in Palo Alto, California in April 1995. This limited edition is now available for purchase only through The Film Music Society, and only by members!

Each essay offers candid insight into the life and career of some of the most important composers in film history – Aaron Copland, Hugo Friedhofer, Bernard Herrmann, Erich Wolfgang Korngold, Alfred Newman, Miklós Rózsa, Max Steiner, Dmitri Tiomkin and Franz Waxman, along with an autobiographical essay – all from Mr. Raksin's unique perspective.

A limited number of these books are available to members only for $20 plus s/h. Please call, write or email us to buy your copy.