FROM FMS PUBLICATIONS...



Elmer Bernstein's Film Music Notebook
Available for the first time since the 1970s!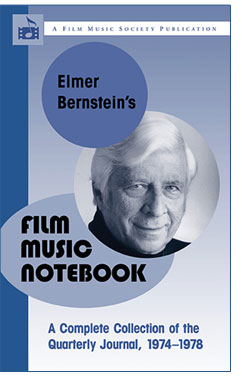 The Film Music Society is pleased to announce a long-awaited publication – the complete collection of Elmer Bernstein's Film Music Notebook. This historic quarterly journal, comprised of thirteen installments, was originally published by Bernstein himself between 1974 and 1978 – issued only to subscribers of Bernstein's Film Music Collection of limited edition recordings.

Film Music Notebook features extraordinary interviews of notable film composers (conducted by Bernstein himself) in addition to score analyses, biographical sketches, articles on historical and contemporary music topics, and Bernstein's Collection News. This 579-page hardcover, filled with illustrations and photographs, includes a brand new introduction by Bernstein and foreword by noted journalist Jon Burlingame.

Respected film composers Hugo Friedhofer, Jerry Goldsmith, Henry Mancini, Johnny Green and David Raksin are among the many interviewees presented in this indispensable research and reference source. Notables such as Daniele Amfitheatrof, Bronislau Kaper, John Addison, Leo Shuken and Richard Rodney Bennett were rarely if ever interviewed anywhere else. Scores by Bernard Herrmann, Dimitri Tiomkin, Franz Waxman and others are analyzed, while numerous articles focus on the music of John Barry, Jerry Fielding, John Williams and many more.

This time capsule of twentieth century motion picture music history is a must for libraries, historians, collectors and enthusiasts.

Film Music Notebook is a Film Music Society publication and available for $40 plus s/h directly through the FMS. Society members receive a 10% discount on the retail price.

You can receive a complimentary copy of Film Music Notebook when you become a member (or renew or upgrade your membership) at the Love Theme level. Visit our Membership page for more information.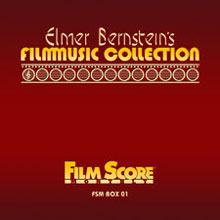 Elmer Bernstein's Film Music Collection, the companion recordings to Film Music Notebook, now available on CD through Film Score Monthly – available at Screen Archives!
Special Offer

For sale to members only!



David Raksin Remembers His Colleagues: Hollywood Composers
Published by The Stanford Theatre Foundation, 1st printing, 47 pp, softcover
Foreword by David W. Packard



©1995 David Raksin, All Rights Reserved



David Raksin Remembers His Colleagues: Hollywood Composers, is a collection of fascinating essays written by Mr. Raksin in association with a festival of classic film scores at the Stanford Theatre in Palo Alto, California in April 1995. This limited edition is now available for purchase only through The Film Music Society, and only by members!

Each essay offers candid insight into the life and career of some of the most important composers in film history – Aaron Copland, Hugo Friedhofer, Bernard Herrmann, Erich Wolfgang Korngold, Alfred Newman, Miklós Rózsa, Max Steiner, Dmitri Tiomkin and Franz Waxman, along with an autobiographical essay – all from Mr. Raksin's unique perspective.

A limited number of these books are available to members only for $20 plus s/h. Please call, write or email us to buy your copy.