FROM FMS RESTORATIONS...


Conversation Piece: An Unvarnished Chat with Bernard Herrmann
FMS restores recording of never-before-released 1970 interview
F

ilm music preservation is not just about saving music manuscripts and recordings. It's also about saving the artform's history through writings, photographs and, in rare opportunites, the spoken word.

The Film Music Society is pleased to present its newest CD release, Conversation Piece: An Unvarnished Chat With Bernard Herrmann.

On September 26, 1970, Leslie Zador (the son of orchestrator Eugene Zador) and Gregory Rose from classical radio station KFAC interviewed Herrmann in his North Hollywood home on behalf of the Los Angeles Free Press. The interview was transcribed and an article appeared in the Free Press about a month later. Soon after, the sole recording of the interview was stowed away for more than 35 years.

Excerpts of the original transcript were published in the Society's anthology Film Music 1 (1989). The audio tape was recently retrieved and generously donated by Zador to the FMS for historic preservation. Now, with permission from the interviewers and Herrmann's wife Norma Shepherd, this newly restored recording of one of Hollywood's most revered composers will soon be available on CD in its entirety (with the exception of a few imprudent remarks).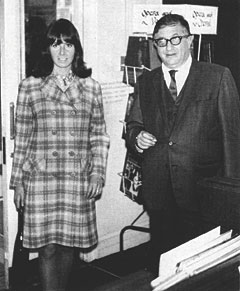 Herrmann with wife Norma Shepherd, 1968.

Herrmann's blustery manner and dry wit, a longtime focus of film music lore, is both provocative and enchanting during the nearly 80 minutes of dialogue. A listener need only close his/her eyes to be transported to the Herrmann living room: a squeak of sofa springs, a clink of tea cups, the woofs and jingles of Herrmann's beloved dogs Alpy and Twi, and intermittent remarks by his attentive wife Norma.

Herrmann enthusiasts may recognize the name of this project, Conversation Piece, as the title of one of the composer's titillating cues from North by Northwest. And movie buffs will know the origin of the term "unvarnished" – "the unvarnished story of a seaman's life" from The Ghost and Mrs. Muir. Both references befit this surprisingly candid interview.

Conversation Piece is not just a "one pass" encounter. Time and again, the listener will want to revisit the experience. Fourteen indexed tracks make it easy to explore the various topics of discussion, during which Herrmann is unabashed in his criticism of Hollywood ("Today every half-wit is a director of films. The less he knows, the more original he is."); eloquent in his love of music ("Music is a fluid art; it's a living art. And living art means each time it's played, it's reborn."); and steadfast about his outlook on life itself ("I always find difficult people easy. I only find glad-harrys difficult and vacuous."). Subjects include many of his film, concert, and opera works; his co-workers such as Alfred Hitchcock and Orson Welles; and the importance he places on dignity and integrity.

Conversation Piece: An Unvarnished Chat with Bernard Herrmann is available for $15 (plus s/h). Proceeds contribute to the Society's future restoration projects.

If you appreciate the significance of motion picture music and would like to support The Film Music Society's preservation efforts, please consider becoming a member of our organization with your tax-deductible donation of $50 or more. Visit our Membership Page for more information, or call us at (310) 820-1909.





Special Offer

For sale to members only!



David Raksin Remembers His Colleagues: Hollywood Composers
Published by The Stanford Theatre Foundation, 1st printing, 47 pp, softcover
Foreword by David W. Packard



©1995 David Raksin, All Rights Reserved



David Raksin Remembers His Colleagues: Hollywood Composers, is a collection of fascinating essays written by Mr. Raksin in association with a festival of classic film scores at the Stanford Theatre in Palo Alto, California in April 1995. This limited edition is now available for purchase only through The Film Music Society, and only by members!

Each essay offers candid insight into the life and career of some of the most important composers in film history – Aaron Copland, Hugo Friedhofer, Bernard Herrmann, Erich Wolfgang Korngold, Alfred Newman, Miklós Rózsa, Max Steiner, Dmitri Tiomkin and Franz Waxman, along with an autobiographical essay – all from Mr. Raksin's unique perspective.

A limited number of these books are available to members only for $20 plus s/h. Please call, write or email us to buy your copy.