Print this article
FMS FEATURE ARTICLE...


October 3, 2003

My Buddy

Composer/arranger Buddy Baker is remembered by his colleagues and friends
by Jon Burlingame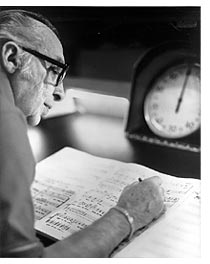 T
he late Disney composer and educator Buddy Baker was honored at a tribute Sunday afternoon, Sept. 28, on the campus of the University of Southern California in Los Angeles.

Baker, who headed the Scoring for Motion Pictures and Television Program at USC's Thornton School of Music, died July 26, 2002. An Oscar nominee for his music for Napoleon and Samantha (1972), he spent nearly three decades at Disney, scoring music for its features, television programs and theme-park attractions. He was a staunch advocate of film music preservation and served a lengthy term on the Board of Directors of The Film Music Society.

More than 150 friends, admirers and colleagues attended the tribute at USC's Bing Theater. Called Songs, Stories and Memories, the two-and-a-half-hour event included musical performances, film clips and reminiscences by people who knew and worked with the composer.

Composer David Spear, who organized the tribute, introduced many of the speakers and accompanied several of the artists on the piano. Singer-songwriter Bob Moline, performed his "Golden Dream," which Baker incorporated in his American Adventure score for Florida's Epcot Center.

Composer Joe Harnell dedicated his "Screen Themes" suite (including music from The Incredible Hulk and V) to Baker. Harnell had arranged it for saxophone quartet, and also improvised on the Hulk theme at the piano. He spoke warmly of his years of friendship with Baker.

The USC Chamber Choir, directed by William Dehning, performed two pieces: "Grim Grinning Ghosts," Baker's popular theme for Disneyland's Haunted Mansion attraction, and "Live Every Day," an original composition by – and featuring – legendary jazz drummer Louis Bellson (the latter arranged by equally legendary Hollywood orchestrator Jack Hayes, who also attended).

For many in attendance, the highlight of the afternoon was the appearance of famed Disney songwriter Richard Sherman, who sang and played three of his most famous tunes (written with his brother Robert): "The Wonderful World of Color," penned in 1961 for the Disney TV series; "It's a Small World," originally written for the 1964 World's Fair and now one of Disneyland's most famous attractions; and "Winnie the Pooh," for the 1960s short subjects that have become classics of children's animation.

In each case, Sherman explained, Baker arranged and conducted the songs, providing them with respectively elegant, intricate and fun orchestral settings that enabled the songs to work within the necessary dramatic forms. He screened clips from the finished products of all three.

Also performing were blues artist Wini Beatty (singing "Buddy's Blues," which she wrote for his 80th birthday and updated for the tribute) and jazz trumpeter/vocalist Ron McCurdy, who sang "Charlee," a song Baker wrote for his wife Charlotte.

Baker's stepson Scott Keene and former USC student Adam Fields also reminisced about Baker. Spear and another former student, David Dunbar, demonstrated some of the techniques that Baker taught, using a clip from one of Baker's most touching films, The Fox and the Hound (1981).

This writer, at the end of the program, attempted to place Baker's career at Disney and beyond – as head of the nation's leading graduate-school program for budding film composers – in a larger historical context.

Rob Cutietta, Dean of the Thornton School of Music, thanked Spear for assembling the program, film-scoring program director Brian King for his technical assistance and Charlotte Baker for providing the materials for the lavish Baker exhibit in nearby Alfred Newman Recital Hall.






Ceremony featured Best Song performances by Timberlake, Sting, Legend
Ellington, North, Goldsmith, Rorem, Schickele among top recordings
Composers Johannsson, Richter explain what happened
Composers Poledouris, Rose added to Hall of Fame