Print this article
FMS FEATURE ARTICLE...


December 5, 2003

Book Review

"When She Sang, God Spoke"

New Judy Garland biography is dazzling, definitive
by Marilee Bradford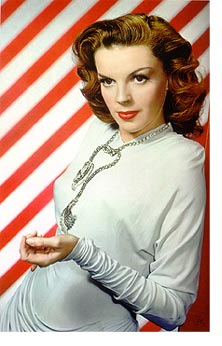 H
ow many Judy Garland books do we really need? You can find at least a half dozen in print, and countless out-of-print but available through used book stores and on-line sources. Many are narrow in perspective, fan-based valentines, or lacking insight and accuracy about (whom many consider) the most important entertainer of the 20th Century.

But objectivity, beauty and truth come together in noted chronicler John Fricke's Judy Garland: A Portrait in Art & Anecdote, a visually stunning and comprehensive biographical portrayal of Garland in a glorious "coffee table"-size volume.

During an unprecedented five-decade career, Garland reached the pinnacle of artistic achievement and popular success in virtually every entertainment medium – vaudeville, radio, films, television, theatre, nightclub, concert and recordings – while her personal life and health problems plagued and distorted her public image. Here, Fricke provides a tender yet honest telling of the real Garland in an account unretouched by Hollywood folklore or societal gossip. Chapters are assigned by decade, each starting off with insightful overviews by Fricke followed by a plethora of breathtaking images interwoven with historical narrative.

Born in 1922, the youngest of three Vaudeville-bred daughters, Francis Gumm made her singing debut at age two, soon joining her siblings as The Gumm Sisters for hundreds of stage and radio appearances. In 1935 at age 12, donning the stage name of Judy Garland, her rendition of "Zing! Went the Strings of my Heart" for M-G-M staff pianist Roger Edens earned her a seven-year contract at Metro. And by 1939, with the release of The Wizard of Oz, Garland had secured her box office status.

From her lengthy tenure at M-G-M to her repeated comebacks at other studios (notably A Star Is Born, Warner Bros. 1954; and several films for United Artists); her Emmy-winning TV series; her hit albums at Capitol Records; and her record-breaking engagements at Carnegie Hall, the London Palladium and the Palace Theatre, Garland ran a gamut of musical and dramatic triumphs unlike any other. Her dynamic, her essence, remains unequaled even today.

Garland's diverse life and timeless talents are presented here in hundreds of rare and previously unpublished photographs, family mementos, studio memorabilia and anecdotes taken from rare interviews with Judy, her family and friends, colleagues and others who knew her best. There are remembrances by such songwriters as Burton Lane, Hugh Martin, Betty Comden, Adolph Green, Lionel Bart, Harold Arlen and Yip Harburg; musical directors Roger Edens and Nelson Riddle; fellow songsters including Melissa Manchester, Tony Bennett, Bing Crosby and Margaret Whiting; M-G-M musical luminaries Howard Keel, Ann Miller, June Allyson, Gene Kelly, Mickey Rooney and Fred Astaire; and a clever epilogue by composer/lyricist Jerry Herman (a special lyric about Garland to the tune of "That's Entertainment").

The book's art direction by Ranse Ransone is remarkable in its detail and clarity, so that each page-turn offers a feast for the eye. Fricke's extensive photo captions are fact-filled and stimulating.

The foreword by Lorna Luft is a personal tribute to her mother, delivered with candor and affection from a grown daughter's perspective. It is also a clear endorsement of Fricke's work over the years to maintain and nurture the Garland legacy "in a proper and loving way."

Fricke is by no means a mere fan. He is an expert and scholar of all things Judy Garland and, more specifically, The Wizard Of Oz. The critical success of his previously published books on the subjects, numerous contributions to DVD commentaries, CD liner notes, (Emmy-winning) documentary production, personal appearances and the like, have proven there is no end to the world culture's abiding love and fascination for Judy and Oz. Fricke has made a unique career for himself in this regard, and it is well deserved.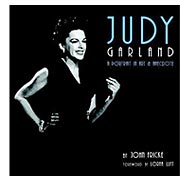 For film music aficionados who neglect movie musicals as part of their canon of knowledge, why not make a New Year's resolution to fill that gap in your historical insight? Start with M-G-M and the Freed Unit – the best, biggest and brightest contributor to this vibrant genre. To the vast extent of Garland's incomparable contributions to the Metro musical film, Judy Garland: A Portrait in Art & Anecdote serves as both a vital primer and consummate resource on the subject.

Time has been powerless to put Judy Garland out of fashion. Now entertaining her fourth generation . . .


Judy Garland: A Portrait in Art & Anecdote. By John Fricke. Boston/New York/London: Bulfinch Press, AOL Time Warner Book Group, 2003. 324 pp. Oversized. Color & B/W Illustrations, Photographs. Indexed. ISBN 0-8212-2836-6 (hard cover with jacket, $50.00)




Ceremony featured Best Song performances by Timberlake, Sting, Legend
Ellington, North, Goldsmith, Rorem, Schickele among top recordings
Composers Johannsson, Richter explain what happened
Composers Poledouris, Rose added to Hall of Fame