Print this article
UPCOMING EVENT...

January 7, 2005

Film Scores Flash Back to Flatbush

Mauceri brings movie music to famed composers' Brooklyn roots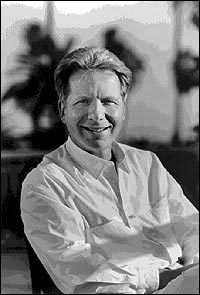 Hollywood Bowl Orchestra music director and movie-music champion John Mauceri will conduct several rarely heard pieces – including several from films – with the Brooklyn Philharmonic next weekend.

The program, titled "Brooklyn Goes Hollywood," will focus on Brooklyn-born composers including Bernard Herrmann, Aaron Copland, Arnold Schoenberg, George Gershwin and John Corigliano. It is scheduled for 8 p.m. Saturday, Jan. 15, at the Brooklyn Academy of Music.

On the program will be Herrmann's prelude to North by Northwest (1959) and Psycho: A Narrative for Orchestra. The latter is Herrmann's own 14-minute distillation of excerpts from his classic 1960 score for the Hitchcock suspense masterpiece.

The Copland selection is the eight-minute suite from The Heiress, the 1949 film that won the composer his only Academy Award. Corigliano's love theme from Altered States (1980) and, in its New York premiere, Gershwin's "Watch Your Step" ballet from Shall We Dance (1937), his last orchestral composition, round out the movie-related works.

Mauceri will also conduct two late tonal works of Schoenberg – a Hollywood resident and sometime teacher of Gershwin – the rarely heard Chamber Symphony No. 2 (completed in Southern California) and Theme and Variations, Op. 43b.

Mauceri will discuss all of these and play recorded excerpts on the program "Sound Check," WNYC-FM 93.9 in the New York area, at 2 p.m. Eastern time Monday, Jan. 10.

Further information is available at www.brooklynphilharmonic.org, or phone (718) 488-5700.