Print this article
FMS FEATURE...

February 11, 2005

Harold Arlen at 100

Centennial celebration is planned in honor of legendary songwriter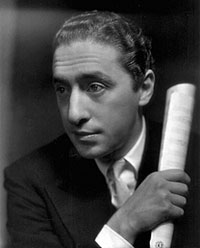 February 15, 2005 marks the 100th birthday of renowned American composer Harold Arlen, one of the most significant songwriters of the Twentieth Century. Among Arlen's contributions are more than 500 timeless classics for both stage and screen, including "Blues in the Night," "It's Only A Paper Moon," "Ac-Cent-Tchu-Ate The Positive," "Let's Fall In Love," I've Got the World On a String," "Lydia, The Tattooed Lady," "One For My Baby (and One More for the Road)," "That Old Black Magic," "Come Rain Or Come Shine" and many more.

Born Hyman Arluck on February 15, 1905 in Buffalo, New York, Arlen studied piano from age 9 and rapidly advanced in classical music studies. In his teens, he developed a deep passion for jazz while playing piano in local bands, movie houses, vaudeville troupes, and cabarets.

With lyricist Ted Koehler, Arlen began his songwriting career in 1929 at the famed Cotton Club in New York City, where he honed his showmanship and melody writing with such songs as "Get Happy," "Between the Devil and the Deep Blue Sea" and "Stormy Weather." Between 1934 and 1973, he wrote scores for over 23 Broadway musicals (Bloomer Girl, St. Louis Woman, House of Flowers) as well as specialty material for cabaret and revues.

Most notable among his 30 Hollywood film scores are his songs for two Judy Garland vehicles: Warner Bros.' 1954 landmark film A Star Is Born, featuring "The Man that Got Away" (lyrics by Ira Gershwin), and M-G-M's 1939 everlasting The Wizard of Oz, which featured his Academy Award-winning "Over the Rainbow" (lyrics by E.Y. Harburg). In 2000, "Over the Rainbow" was recognized as the Number One Song of the Twentieth Century by the RIAA and, in 2004, the AFI named it the Number One Movie Song of all time.

Honors include eight Academy Awards song nominations and induction into the Songwriters Hall of Fame. A longtime member in the American Society of Composers, Authors and Publishers (ASCAP), Arlen collaborated over the years with such prominent wordsmiths as Ira Gershwin, Johnny Mercer, Harburg, Koehler and others. His tunes are among the most successful compositions in the history of the great American songbook, having been recorded by virtually every notable vocal artist – from Frank Sinatra to Ella Fitzgerald, from Nat King Cole to Barbra Streisand – as well as countless instrumental artists the likes of Oscar Peterson, Benny Goodman and André Previn. His works continue to be recorded today by many contemporary artists, including Faith Prince, Eric Clapton, Natalie Cole and Jane Monheit.

Arlen died in New York City on April 23, 1986.

Arlen's son, Sam Arlen, and his music publishing company, S.A. Music Co., have organized the Harold Arlen Centennial to bring the composer's name and music to the forefront. Sam Arlen is joined by co-chairs Barbra Streisand, Tony Bennett, Michael Feinstein and Marilyn Bergman (ASCAP) for the Centennial, a two year celebration with events in major cities throughout the U.S. and abroad. To learn more about the Centennial and to view a schedule of events, please visit www.HaroldArlen2005.com. Other resources: The Official Harold Arlen Website: www.HaroldArlen.com.

Editor's note: The Film Music Society will feature Harold Arlen in The Cue Sheet, Vol. 20, No. 2 (April 2005). A subscription to The Cue Sheet is free to members of the FMS. Please visit our membership page for more information.







Warning: Cannot use a scalar value as an array in /home/fmso/public_html/news_events/features/featurebar.php on line 74

Ceremony featured Best Song performances by Timberlake, Sting, Legend

Warning: Cannot use a scalar value as an array in /home/fmso/public_html/news_events/features/featurebar.php on line 74

Ellington, North, Goldsmith, Rorem, Schickele among top recordings

Warning: Cannot use a scalar value as an array in /home/fmso/public_html/news_events/features/featurebar.php on line 74

Composers Johannsson, Richter explain what happened

Warning: Cannot use a scalar value as an array in /home/fmso/public_html/news_events/features/featurebar.php on line 74

Composers Poledouris, Rose added to Hall of Fame


February, 2005
Warning
: Cannot use a scalar value as an array in
/home/fmso/public_html/news_events/features/featurebar.php
on line
180
Oscar's Score and Song nods exemplify film music as the international language
Warning
: Cannot use a scalar value as an array in
/home/fmso/public_html/news_events/features/featurebar.php
on line
180
New 5-CD box set features pop icon's themes for film and television
Warning
: Cannot use a scalar value as an array in
/home/fmso/public_html/news_events/features/featurebar.php
on line
180
Multiple honors for Howard Shore; highest award to John Barry
Warning
: Cannot use a scalar value as an array in
/home/fmso/public_html/news_events/features/featurebar.php
on line
180
Centennial celebration is planned in honor of legendary songwriter
Warning
: Cannot use a scalar value as an array in
/home/fmso/public_html/news_events/features/featurebar.php
on line
180
Press Release

2018 Archive

2017 Archive

2016 Archive

2015 Archive

2014 Archive

2013 Archive

2012 Archive

2011 Archive

2010 Archive

2009 Archive

2008 Archive

2007 Archive

2006 Archive

2005 Archive

2004 Archive

2003 Archive

All Archives