Print this article
FMS FEATURE...

February 25, 2005

Review

Back to Bacharach

New 5-CD box set features pop icon's themes for film and television
by Jon Burlingame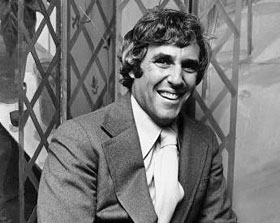 Few composer-arrangers have had the impact that Burt Bacharach has had on contemporary music – from his phenomenal success in the pop realm with such hits as "What the World Needs Now" and "Walk on By" to his Oscar-winning scores and songs for movies like Butch Cassidy and the Sundance Kid (1969) and Arthur (1981).

Over the past several years, Bacharach has enjoyed a career surgence, thanks in part to the wink-nudge '60s-retro Austin Powers movies, which regularly paid homage to the Bacharach style; the composer's acclaimed collaborations with Elvis Costello (including a Grammy-nominated song from the 1996 film Grace of My Heart) and Ronald Isley (Here I Am); New York and Los Angeles revivals of his 1969 stage musical, Promises, Promises; and retrospectives ranging from a new book to network TV specials.

The best way to appreciate the unique sound, complex rhythms and quirky time signatures of Burt Bacharach has always been through his own, wildly underrated recordings. Rhino's 1998 box set, the three-CD The Look of Love, was a very complete collection of Bacharach tunes (as performed by the original artists, including Dionne Warwick, Dusty Springfield and Jackie DeShannon). But Burt's own voice was, for the most part, missing and missed.

Now, Hip-O Select (Universal's internet-only, direct-to-consumer label) has quietly released a truly definitive Burt Bacharach collection: Something Big: The Complete A&M Years... and More (five CDs, $89.98, www.hip-oselect.com), drawn for the most part from the composer's own LPs for the Herb Alpert-owned label from 1967 to 1979.

Film-music fans will make special note of Bacharach's contributions to movies and TV over the years. Included is his complete Butch Cassidy and the Sundance Kid soundtrack, including a previously unreleased track, "Etta's Theme"; and the Bacharach-Hal David songs from Wives and Lovers (1963), What's New Pussycat? (1965), After the Fox (1966), Alfie (1966), Casino Royale ("The Look of Love," 1967), The April Fools (1969), Long Ago Tomorrow (1970), Something Big (1971) and Lost Horizon (1973).

TV-music buffs will especially appreciate the inclusion of Bacharach's Liberty single of "Nikki," the song he wrote for his daughter in 1966 which ABC adopted three years later as its Movie of the Week theme; and "Juanita's Place," from his ABC Stage '67 musical On the Flip Side. Also included are Bacharach's own takes on his theme for Arthur and a song he wrote for the movie Night Shift (1982), "That's What Friends Are For" – both co-written with Carole Bayer Sager – that generated millions of dollars for AIDS research.

Most of the six-plus hours of music on the set is instrumental, although the composer contributes occasional vocals on tunes like "Make It Easy on Yourself" and "Lost Horizon" and there are great vocal turns by such stars as Carly Simon ("I Live in the Woods") and B.J. Thomas ("Raindrops Keep Falling on My Head").

Perhaps most significantly, Something Big resurrects a significant but seemingly forgotten aspect of Bacharach's career: terrific, stand-alone orchestral compositions that are as captivating and memorable as any of his songs. They could have been movie themes, or even cues within scores for movies that never got made: Titles like "Pacific Coast Highway" (from the Make It Easy on Yourself album, 1969), "And the People Were With Her" (from Burt Bacharach, 1971), "Monterey Peninsula" (from Living Together, 1973), "Another Spring Will Rise" (from Futures, 1977) and "Summer of '77" (from Woman, 1979). Most of these four-to-seven-minute gems have not previously been available on CD in America.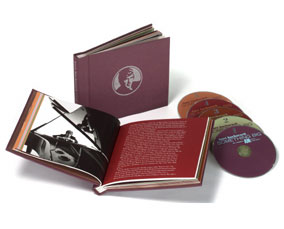 The packaging is unusual, too: A handsome, cloth-covered book measuring 7-1/2" x 6-1/4" inches that contains pockets for the five CDs as well as a well-illustrated 44-page booklet with definitive liner notes – a thorough Bacharach biography featuring insightful commentary by Lauren Oliver – plus tributes by longtime friends Phil Ramone and Richard Carpenter. Compilation producers Mike Ragogna and Jim Pierson have done such a classy job that one suspects the 5,000-copy limited edition will soon be sold out.






Ceremony featured Best Song performances by Timberlake, Sting, Legend
Ellington, North, Goldsmith, Rorem, Schickele among top recordings
Composers Johannsson, Richter explain what happened
Composers Poledouris, Rose added to Hall of Fame