Print this article
FMS FEATURE...

April 13, 2005

Lincoln Center Receives Lalo's Letters from Argentina

World premiere of Schifrin's chamber music features all-star ensemble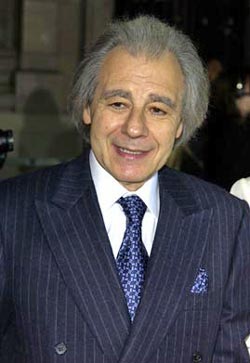 Lalo Schifrin, composer

Lalo Schifrin's latest concert work will be unveiled next week in a performance by the Chamber Music Society of Lincoln Center.

The world premiere of Schifrin's Letters from Argentina (a CMS co-commission) is scheduled for Sunday, April 17 at 5 p.m., and Tuesday, April 19 at 7:30 p.m. at New York's Alice Tully Hall. These will be the final concerts of its 2004-2005 season.

The new work was written for, and will be performed by, clarinetist David Shifrin; with Cho-Liang Lin, violin; Nestor Marconi, bandoneón; Pablo Aslan, double bass; Satoshi Takeishi, percussion; and the composer at the piano.

Schifrin writes of his Letters from Argentina: "Like the clear sky, like the rain, like the clouds, music has always been part of the Argentinean atmosphere, ever present in the literature, in the visual arts, and in the history of the country. The strumming of the Gauchos' guitars,

David Shifrin, clarinet
(photograph by Christian Steiner)
the rhythms of the Indian drums, the expressive melodies of the bandoneón were the aural media with which I grew up. Tangos coming from radios, folk music sung and danced in festivities, milongas and candombes celebrating Mardi Gras surrounded my childhood in Buenos Aires."

Born in Buenos Aires in 1932, Schifrin has enjoyed a long career as a composer, conductor, and pianist. Following his schooling in his native Argentina and at the Paris Conservatoire, he began a career in jazz performance and composition that continues to this day. Over the years, his style broadened considerably, especially after he established himself in the United States in 1958, and today it is recognized as embracing not only jazz, but also "classical" concert works that synthesize a variety of traditional and modernist techniques.

Schifrin has composed more than a hundred scores for film and television – Mission Impossible, Cool Hand Luke, and Dirty Harry, among them – and has received four Grammy awards. In addition to Letters from Argentina, recent commissions include Fantasy for Screenplay and Orchestra, for Daniel Barenboim and the Chicago Symphony, and Triple Concerto for Clarinet, Viola, Piano, and Orchestra, composed for the Halcyon Trio and premiered with the New Jersey Symphony.

Joining CMS Artist Members clarinetist David Shifrin and violinist Cho-Liang Lin on this program are guest artists Pablo Aslan, Nestor Marconi, and Satoshi Takeishi.

Argentinean born bassist Pablo Aslan is recognized as one of the leading figures in the tango revival. He directs Avantango, a tango-jazz ensemble featuring New York based Argentinean musicians and dancers. He has performed and recorded with Yo-Yo Ma, Wynton Marsalis, Shakira, and the New World Symphony, among many others.

Nestor Marconi is considered one of the leading bandoneón players in the world. Early in his career, he worked with such artists as Horacio Salgan, Astor Piazzola, and Hector Stamponi. In the 1990s, he became established on the international classical music circuit, performing bandoneón and orchestra works as a soloist, and in 1997 toured with Yo-Yo Ma and Friends.

Drummer Satoshi Takeishi was born in Mito, Japan in 1962, and came to the U.S. in 1981 to attend the Berklee College of Music in Boston. He later studied Latin American music in Columbia, a period which proved fruitful, leading to performances and recordings with many leading Latin musicians, including flutist Nestor Torres, and the Elaine Elias Trio.

Tickets are $48, $39.50, and $27.50, available at the box office (Student Rush $10) or by calling 212.875.5788 and on-line at http://www.chambermusicsociety.org.




Ceremony featured Best Song performances by Timberlake, Sting, Legend
Ellington, North, Goldsmith, Rorem, Schickele among top recordings
Composers Johannsson, Richter explain what happened
Composers Poledouris, Rose added to Hall of Fame