Print this article
FMS FEATURE...

April 29, 2005

Debney, Snow honored by ASCAP

Legendary songwriter Harold Arlen also "ac-cent-tchu-ated"
by Jon Burlingame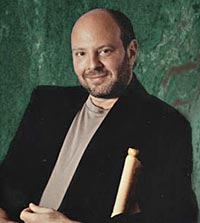 Mark Snow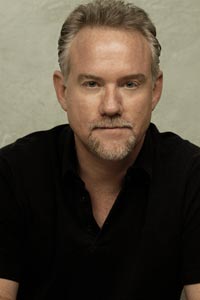 John Debney
Oscar-nominated composer John Debney and multiple Emmy nominee Mark Snow received top honors at the annual Film and Television Music Awards dinner of the American Society of Composers, Authors and Publishers (ASCAP) Wednesday night at the Beverly Hilton in Beverly Hills, Calif.

Debney, 48, became the youngest-ever recipient of ASCAP's Henry Mancini Award "in recognition of his outstanding achievements and contributions to the music of film and television."

Best-known for his Academy Award-nominated music for last year's controversial The Passion of the Christ, he has also won three Emmys (for The Young Riders, seaQuest DSV and The Cape) and scored such box-office hits as Sin City, Elf, Bruce Almighty, The Scorpion King, The Princess Diaries, I Know What You Did Last Summer and Liar Liar.

Snow, 58, received ASCAP's Golden Note Award "in recognition of his unprecedented success as one of the most versatile and popular composers in television and film." He is the only composer to have been honored at every ASCAP dinner for the past 20 years.

He has received 13 Emmy nominations, including six for his music for The X-Files and others for such highly rated television films as Helter Skelter, Children of the Dust, Oldest Living Confederate Widow Tells All and Something About Amelia.

Approximately 750 members of the Hollywood film-music community attended the event, which also included a tribute to songwriter Harold Arlen, whose centennial is being celebrated this year.

Arlen's many songs for Broadway and Hollywood included "Over the Rainbow," "Stormy Weather," "It's Only a Paper Moon," "Come Rain or Come Shine," "One for My Baby," "Ac-cent-tchu-ate the Positive," "Blues in the Night" and "The Man That Got Away." His son Sam, a jazz saxophonist, performed "Stormy Weather" for the crowd; he and his wife Joan recently established a scholarship for young composers through the ASCAP Foundation.

Helping to salute Debney was director Adam Shankman, whose Vin Diesel film The Pacifier is among recent Debney scores. He regaled the crowd with anecdotes about their various projects through the years (including their initial meeting on The Relic, for which Shankman had been hired to choreograph a native-sacrifice scene that Debney was to score).

Offering congratulations via video were directors Mel Gibson (The Passion of the Christ), Robert Rodriguez (Spy Kids, Sin City), Garry Marshall (The Princess Diaries) and Jon Favreau (Elf).

Debney, obviously humbled by the honor, cited Mancini, Jerry Goldsmith, Elmer Bernstein and John Williams among his film-scoring heroes and said that he continues "to strive to find the perfect combination of notes" in each of his scores.

Paying tribute to Snow were actress Stefanie Powers, who recounted the day that Snow convinced Hart to Hart producer Tom Mankiewicz – who had been considering a pair of songwriters – to let him write the theme for the long-running romantic-comedy series, which became Snow's first TV hit; and Cagney & Lacey star Tyne Daly, who offered a poem and amusing family recollections because she also happens to be Snow's sister-in-law.

X-Files producer Frank Spotnitz said that over 11 years' collaboration on four TV series (also including Millenium, Harsh Realm and The Lone Gunmen), he has discovered "how great Mark's talent really is. His score holds up a mirror to the work presented...[but] the reflection is more beautiful and perfect than you thought itcould look."

X-Files creator Chris Carter, via video, said that despite their close collaboration on dozens of X-Files television scores, it was when he witnessed the composer conducting an 85-piece orchestra on the feature film that marked "the moment I saw Mark's true brilliance."

Snow amused the crowd with stories about his early days in television, including a chance meeting with the legendary Bernard Herrmann, who gave him a baton just hours before he died, having completed the score for Taxi Driver.

Other composers who attended the event and received awards included prime-time TV composers Dan Foliart (7th Heaven, 8 Simple Rules), Michael Skloff (Friends), Frank Catanzaro (sports programming), Russ Landau (Survivor, Fear Factor), David Vanacore (Survivor, The Apprentice), Michael Giacchino (Alias, Lost), Grant Geissman (Two and a Half Men), Jeff Cardoni (CSI: Miami), Reinhold Heil and Johnny Klimek (Without a Trace), Michael Levine (Cold Case), Rick Marotta (Everybody Loves Raymond) and Atli Orvarsson (Law and Order).

Feature-film composers collecting awards included Marco Beltrami (I, Robot), Debney (Passion of the Christ, Princess Diaries 2), Giacchino (The Incredibles), Gregor Narholz (The SpongeBob SquarePants Movie) and Alan Silvestri (The Polar Express, Van Helsing).

ASCAP President Marilyn Bergman served as emcee.




Ceremony featured Best Song performances by Timberlake, Sting, Legend
Ellington, North, Goldsmith, Rorem, Schickele among top recordings
Composers Johannsson, Richter explain what happened
Composers Poledouris, Rose added to Hall of Fame