Print this article
CONCERT REVIEW...


May 20, 2005

L.A. Film Music Is L.A. Phil Music

Los Angeles Philharmonic "Soundstage L.A." concert
Disney Concert Hall, May 13–15, 2005
by Preston Neal Jones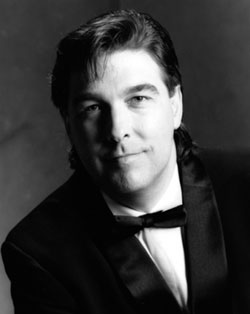 David Newman

Many years later, Miklós Rózsa's memory of the 1944 Double Indemnity premiere was still vivid. In conversations, interviews, and in his autobiography, Rózsa conjured up the angry face of the Paramount music executive who hated the modernity of Rózsa's score for Billy Wilder's classic noir. Trying to express his condemnation in the strongest terms possible, the exec snarled at the composer, "You know where this music belongs? Carnegie Hall!" As Rózsa recollected, "He did not mean it as a compliment."

Well, last weekend, the anonymous, tin-eared executive finally got his wish, and Rózsa's music for Double Indemnity found a most congenial welcome in L.A.'s closest equivalent to Carnegie, Disney Concert Hall. The dark and acerbic musical dramatics which had so eloquently climaxed Wilder's thriller brought fitting conclusion to a very special concert of film-music by Rózsa and seven of his distinguished colleagues. The theme was "movies set in Los Angeles," and the conductor was a gentleman who knows quite a bit about this city and its films, David Newman.

Fresh from finding his own score to Hoffa on the AFI's list of 250 all-time greatest film scores, Newman took charge of the podium for three performances of suites and selections. The carefully crafted program afforded generous breathing room for each composer's selection to state its case. Friday and Saturday evenings, Bruce Broughton was on hand to assist film-music historian Jon Burlingame in the pre-concert event; on Sunday, when I attended, conductor Newman did the honors, briefly, before leaving the imaginary classroom in Professor Burlingame's capable hands.

Franz Waxman got the concert off to a blazing start with his music for police cars racing down Sunset Boulevard – the opening of the suite (arranged by Hollywood Bowl conductor John Mauceri) drawn from the Oscar-winning score. The overall effect was stunning, as if all the powerhouse emotions of the Wilder-Brackett classic had been compacted into a mere fourteen minutes of orchestral tour-de-force. A side benefit of the concert was in its taking the opportunity to honor three recently departed maestros – Jerry Goldsmith, David Raksin and Elmer Bernstein – the latter whose The Grifters followed Waxman with a more contemporary, orchestra/synthesizer take on "L.A. noir" and a delightful nod to Waxman's old compatriot, Kurt Weill, in its jaunty opening movement.

Leonard Rosenman's main title to Rebel Without a Cause presented a perfect example of Americana with its full orchestral treatment of the bluesy love theme, followed by the striking action music composed by Rosenman with all his trademark jagged rhythms and dissonances for the Griffith Observatory knife-fight sequence. A much more lighthearted look at Los Angeles's past closed out the first half of the concert with highlights of Alan Silvestri's Who Framed Roger Rabbit. The ghost of Carl Stalling was honored in the merry, mercurial mood-shifts, and an isolated jazz trio brought out all the evil that was drawn, not born, into Jessica Rabbit.

The second half began with what for many was the apex of the concert, a new suite drawn by David Newman from Jerry Goldsmith's ten-day-wonder, Chinatown. Although, as Burlingame pointed out in the pre-concert talk, Goldsmith's score for this period piece called on boldly anachronistic modern touches (save, of course, for the memorable main theme for trumpet), the remarkable accomplishment is how perfectly the score captures the darkly menacing mood of the city as so eloquently expressed in the prose of Raymond Chandler. Evanescent chords and fragments blend into one another like breezes from the Santa Ana, and those of us in the Orchestra View section were able to watch the unusual effects being created by such tactics as having the pianists strum their fingers over the strings. Anyone familiar with the original recording of this score couldn't help but marvel at how perfectly Newman's orchestra captured the subtle magic in every nuance of Goldsmith's masterwork.

Bronislaw Kaper cleansed the palate with his "Fugue for Ants" from Them! (rejected for use in the film by the film's producers, and making its world debut here), a piece ranking with Waxman's minuet from Bride of Frankenstein and Salter's playful-dog scherzo from Man Made Monster as examples of unexpectedly delightful classicism exercised at the service of otherwise dark and foreboding horror movies. This was followed by the opening movement of the suite from The Bad and the Beautiful, and David Raksin's famous "siren song" of Hollywood never sounded more glorious.

The orchestra played two more movements with equal aplomb, but I wouldn't have objected to a rendition of the complete suite. Here was, in fact, my only quibble with the concert, that it perhaps should have allowed pieces like the Raksin and the Rosenman to come to their dramatically satisfying conclusions. But perhaps I'm second-guessing my betters, who might have felt that too many climaxes would have spoiled the shape of the concert overall. (Although Raksin's Bad/Beautiful suite, unlike his actual movie score, ends on a diminuendo.)

In the case of Double Indemnity, they played nothing but the climax, the final reel of the Rózsa noir. Here, I wished that the powers that be had managed to include the opening statement and perhaps a bit of the mysterioso string theme for Stanwyck's "Mrs. Dietrichsen," but even without these elements as a set-up, the piece played out to a powerful pay-off and a fine, fitting send-off after a splendid afternoon of music.

In pre-concert conversation, David Newman commented on the long uphill battle that film music has waged against academic and cultural snobbery in America. Apparently, some battles remain to be won. A concert of this type, up until a few years ago, would have been a miracle beyond imagining. And though this past weekend has proven that classic film scores presented with respect and artistry can fill a major hall three times over, not a single review of this event appeared in any Los Angeles periodical.
Preston Neal Jones is the author of Heaven and Hell to Play With: The Filming of The Night of the Hunter (Limelight, 2002).




Ceremony featured Best Song performances by Timberlake, Sting, Legend
Ellington, North, Goldsmith, Rorem, Schickele among top recordings
Composers Johannsson, Richter explain what happened
Composers Poledouris, Rose added to Hall of Fame