Print this article
FMS FEATURE...


May 25, 2005

BMI'ers Revel in Revell

Kiwi composer receives top honor at MP/TV awards dinner
by Jon Burlingame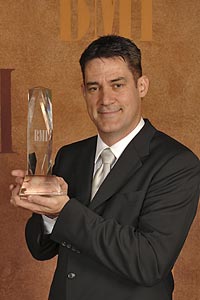 Graeme Revell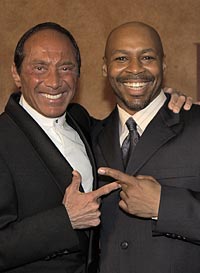 Paul Anka and Kevin Eubanks
Graeme Revell was honored with the Richard Kirk Award for Outstanding Career Achievement at the annual Film & Television Awards dinner of Broadcast Music Inc. (BMI), held Wednesday night, May 18, at the Regent Beverly Wilshire Hotel in Beverly Hills, Calif.

Revell – the New Zealand-born composer for such films as The Crow, The Saint, Daredevil, Lara Croft: Tomb Raider and television's CSI: Miami – joins such past Kirk Award winners as John Williams, Jerry Goldsmith, John Barry, Danny Elfman, Mike Post and Earle Hagen.

Paying tribute to Revell via video were directors Phillip Noyce (Dead Calm, The Saint), Robert Rodriguez (From Dust Till Dawn, Sin City), Carl Franklin (High Crimes, Out of Time), David Twohy (Chronicles of Riddick, Pitch Black) and Danny Cannon (Phoenix, CSI: Miami); and, in the evening's most amusing video sequence, malevolent doll Chucky (whose exploits Revell scored in Child's Play 2 and Bride of Chucky).

Speaking of Dead Calm, Noyce said, Revell's music "made the movie... Graeme opened me up to the aural possibilities of communication. Sounds are your greatest asset as a moviemaker. Music rewrites the script. Graeme never chooses the obvious way. He's the best secret weapon that any director could ever have."

Added Rodriguez, of Revell's contributions to Sin City: "Everything he sent back was dead on." And, said Cannon about Revell's music for the first season of CSI: Miami: "We could just leave him to it. It would turn up on time, and it was good."

Quipped a sarcastic Chucky, introducing a series of clips from Revell's horror-movie career: "I've seen detergents that left better films," later praising his music as "brilliant, innovative and cutting-edge – when you can hear it over the chainsaws and screaming coeds."

Also honored at the dinner were news-theme composer Frank Gari, with the BMI Spotlight Award; Tonight Show composers Paul Anka ("Johnny's Theme") and Kevin Eubanks (the current Jay Leno incarnation of the long-running late-night talk show), with the Classic Contribution Award; and composers Lalo Schifrin (Mission: Impossible) and Stu Phillips (Knight Rider) with the new BMI Ringtone Award.

On hand to collect prizes for top-grossing films were Harry Gregson-Williams (Shrek 2, Man on Fire); Rolfe Kent (Mean Girls, Sideways); Harald Kloser (The Day After Tomorrow, Alien vs. Predator); Trevor Rabin (National Treasure); William Ross (Ladder 49); Theodore Shapiro (Dodgeball); Alex Wurman (Anchorman); Christopher Young (The Grudge); Aaron Zigman (The Notebook); and Revell (Sin City).

"Accidentally in Love" from Shrek 2 was named "most-performed song from a motion picture."

BMI CEO Del R. Bryant announced that the performing-rights organization now represents 75 percent of the music in prime-time network television. Among television composers on hand to receive awards for high-rated programs were Mike Post (the Law & Order franchise), John Keane (CSI, The Amazing Race), Steve Jablonsky and Stewart Copeland (Desperate Housewives), Kevin Kiner (CSI: Miami), Bill Brown (CSI: New York), Martin Davich (ER), Mychael Danna (Medium), Joseph Conlan (NCIS), Joseph Vitarelli (Revelations), Chuck Lorre (Two and a Half Men), Christopher Franke (The Amazing Race), W.G. Snuffy Walden (The West Wing) and Peter Manning Robinson (Without a Trace).

Cable award winners present included Richard Marvin (Six Feet Under), George S. Clinton (The 4400) and Danny Pelfrey (Strong Medicine).




Ceremony featured Best Song performances by Timberlake, Sting, Legend
Ellington, North, Goldsmith, Rorem, Schickele among top recordings
Composers Johannsson, Richter explain what happened
Composers Poledouris, Rose added to Hall of Fame