Print this article
FMS FEATURE...


July 14, 2005

Emmy Plays Favorites

Highly-nom'd Clausen, Fraser, Broughton are among this season's contenders
by Jon Burlingame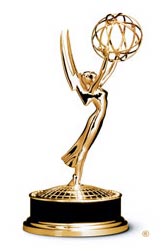 Simpsons composer Alf Clausen has tied arranger/musical director Ian Fraser for the record of most-nominated musician in the history of the Academy of Television Arts & Sciences.

Clausen scored his 26th and 27th Emmy nominations for "outstanding music composition for a series (dramatic underscore)" for the "Treehouse of Horror XV" episode of The Simpsons, and "outstanding music and lyrics" for the song "Always My Dad" in the "A Star Is Torn" episode of the popular animated series.

Since 1991-92, Clausen has been nominated 20 times for music on the Fox series, and has won twice, for songs in the 1996-97 and 1997-98 seasons. His previous nominations were for work on the Omnibus special and the Bruce Willis-Cybill Shepherd comedy Moonlighting.

Fraser's 27 nominations are all in the music-direction category (which involves arranging and conducting, usually on music specials). He is also the most-honored musician in Emmy history, having won 13 times for such classic television specials as America Salutes Richard Rodgers: The Sound of His Music, Baryshnikov on Broadway and Julie Andrews: The Sound of Christmas. This year's nomination was for the TNT special Christmas in Washington.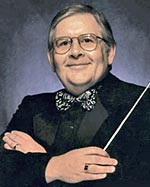 Alf Clausen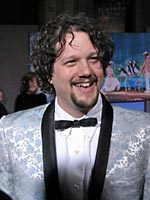 Michael Giacchino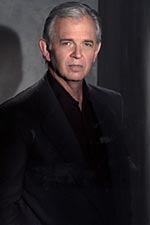 Bruce Broughton

The Emmy nominations for the 2004-05 season contained – for the first time in several years – no surprising or potentially controversial omissions (as happened last year when Thomas Newman was inexplicably ignored for his acclaimed score for Angels in America). Among the highlights:
Michael Giacchino, who burst onto the film- and TV-music scene with his scores for Alias and The Incredibles, received his first two Emmy nods for original music on Lost and an original song in The Muppets' Wizard of Oz.
Danny Elfman received his second Emmy nomination ever for the main title theme music of Desperate Housewives (his first, 14 years ago, was for The Simpsons theme).
Bruce Broughton, whose nine Emmys make him the most-awarded composer of original music in Emmy history, received his 20th prime-time nomination for the music of the HBO TV-movie about Franklin D. Roosevelt, Warm Springs.
The TV-movie and miniseries score category took on an international flavor, with nominations for French composer Bruno Coulais (an Oscar nominee this year for Les Choristes) for the HBO movie Sometimes in April; Australia-based composers Christopher Gordon and Lisa Gerrard, for the music of TNT's Salem's Lot; and Britisher George Fenton (2002 winner for Blue Planet), for music in A&E's Pride.
Oscar winner Rachel Portman (Emma) received her first Emmy nomination in the music-direction category for the PBS telecast of her opera The Little Prince.
Previous Emmy winners honored with new nominations include Jeff Beal (2003 winner for the Monk theme) for music on Carnivale; Sean Callery (2003 winner for scoring 24), receiving his fourth nomination for 24; W.G. Snuffy Walden (2000 winner for his theme for The West Wing), nominated for the theme for Huff; and Michael McCuistion (2001 daytime Emmy winner for his Batman Beyond music), receiving his first prime-time Emmy nomination for the theme of Cartoon Network's Justice League Unlimited.
The complete list of nominees follows:
Outstanding Music Composition For A Series (Dramatic Underscore)

Carnivale, episode "Lincoln Highway" / HBO
Jeff Beal, Composer
House, Pilot episode / FOX
Christopher Hoag, Composer
Lost / ABC
Michael Giacchino, Music by
The Simpsons, episode "Treehouse of Horror XV" / FOX
Alf Clausen, Music by
24, episode "2:00 AM - 3:00 AM" / FOX
Sean Callery, Composer
Outstanding Music Composition For A Miniseries, Movie Or A Special (Dramatic Underscore)

Miracle Run / Lifetime Television
Joseph Conlan
Pride / A&E
George Fenton
Revelations, Part 1 / NBC
Joseph Vitarelli
Salem's Lot / TNT
Lisa Gerrard, Christopher Gordon
Sometimes In April / HBO
Bruno Coulais
Warm Springs / HBO
Bruce Broughton
Outstanding Music Direction
Broadway: The American Musical / Oh, What A Beautiful Morning / PBS
Matthias Gohl, Music Supervisor, Arranger and Producer
A Christmas Carol / NBC
Michael Kosarin, Music Produced and Adapted Underscore by
Christmas In Washington / TNT
Ian Fraser, Music Director
Genius: A Night For Ray Charles / CBS
Rickey Minor, Music Director
The Little Prince (Great Performances) / PBS
Rachel Portman, Music by
Outstanding Music And Lyrics
Malcolm In The Middle / Dewey's Opera –
Song: "The Marriage Bed" / FOX
Charles Sydnor, Music by
Eric Kaplan, Written by
The Muppets' Wizard Of Oz –
Song: "I'm With You' / ABC
Michael Giacchino, Written by
Jeannie Lurie, Written by
Adam Cohen, Written by
Debra Frank, Written by
Steve Hayes, Written by
Reefer Madness –
Song: "Mary Jane/Mary Lane" / Showtime
Dan Studney, Music by
Kevin Murphy, Music by
The Simpsons / A Star Is Torn –
Song: "Always My Dad" / FOX
Alf Clausen, Music by
Carolyn Omine, Lyrics by
Terror at Home: Domestic Violence in America –
Song: "The Tears of the Angels" / Lifetime Television
Michael Bolton, Written and Performed by
Outstanding Main Title Theme Music
Desperate Housewives / ABC
Danny Elfman
Foster's Home For Imaginary Friends / Cartoon Network
James L. Venable
Huff / Showtime
W.G. "Snuffy" Walden
Justice League Unlimited / Cartoon Network
Michael McCuistion
Stargate Atlantis / SCI FI
Joel Goldsmith




Ceremony featured Best Song performances by Timberlake, Sting, Legend
Ellington, North, Goldsmith, Rorem, Schickele among top recordings
Composers Johannsson, Richter explain what happened
Composers Poledouris, Rose added to Hall of Fame