Print this article
OBITUARY...


July 20, 2005

Musical Journeyman Joe Harnell Dead at 80

Diverse career in pop and TV music spanned more than six decades
by Marilee Bradford
Grammy-winning composer/arranger Joe Harnell – whose work as a pop musical director in the 1950s and '60s evolved into a successful television scoring career in the 1970s and '80s – died of heart failure Thursday, July 14, at Sherman Oaks Hospital near his home in Sherman Oaks, California. He was 80.

Harnell won a 1962 Grammy Award for his dance orchestra recording of "Fly Me to the Moon," and received two other Grammy nominations: In 1962 for his Bossa Nova-style arrangement of "Fly Me to the Moon," and in 1963 for his dance album titled Fly Me to the Moon and the Bossa Nova Pops.

He received three Emmy nominations: for scoring a 1981 episode ("Triangle") of The Incredible Hulk, for the 1983 4-hour sci-fi miniseries V and, in 1985, for the NBC daytime drama Santa Barbara (for which he also wrote the theme).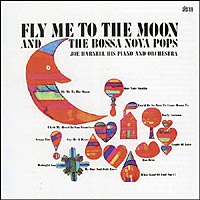 Harnell served as musical director on The Mike Douglas Show in Philadelphia from 1967 to 1973 before moving to California, where he scored more than 400 hours of television – most notably, the weekly series The Bionic Woman (1976-80), Hulk (1977-82), Cliffhangers (1979), Hot Pursuit (1984-85) and Alien Nation (1990). He wrote music for individual episodes of The Andros Target (in 1977), Cagney & Lacey (in 1986) and others. Among his television movie scores of the 1980s were Senior Trip, The Liberators and Shadow Chasers. He also composed the logo music that preceded every United Artists film from 1981 to 1987.

Born August 2, 1924, in the Bronx, Harnell began studying piano at age 6 and was playing in Klezmer and Catskill society bands by age 14. He continued to work professionally while receiving a degree in music under a scholarship from the University of Miami. Serving in World War II, he toured with the Glenn Miller Air Force Band and, still in active duty, studied with such musical notables as Nadia Boulanger in Paris and William Walton in London. After the war, he resumed his studies in the U.S. with Aaron Copland at Tanglewood.

During the 1950s and '60s, Harnell worked as a pianist, arranger and musical director for popular singers the likes of Frank Sinatra, Judy Garland, Robert Goulet, Lena Horne, Peggy Lee, Pearl Bailey, Marlene Dietrich, Shirley MacLaine and Beverly Sills. He recorded a total of 18 albums as orchestra leader and pianist, including Bossa Nova Now for Columbia Records and Hud and Other Movie Themes on the Kapp label.

Harnell scored and wrote songs (some with songwriter Arthur Hamilton) for dozens of television and radio commercials, several of which were later recorded by renowned artists Mel Torme, Crystal Gayle and Anita O'Day. He was an active member of the American Society of Music Arrangers and Composers (ASMAC) for more than 15 years, and served as the organization's President.

Of late, Harnell composed for television documentaries on Adolf Eichmann and Josef Mengele; served as music director for a national tour celebrating the 100th Birthday of Cole Porter; and made numerous public appearances as a solo pianist. He published his candid autobiography Counterpoint: The Journey of a Music Man in 2001, and spent his later years as an educator and mentor to young composers in the USC Thornton School of Music film and television scoring program.

Composer John Williams recently referred to Harnell as "one of the genuine masters of the American musical scene. His career as pianist, arranger, composer and conductor spans the richest and most creative period of our country's musical life, and Joe's contribution to it has become a major one."

Survivors include his wife Alice, three sons, two stepsons, a brother and three grandchildren.

A memorial service is scheduled for 3:00 p.m. Sunday, Sept. 11, at Newman Hall on the USC campus. Tax-deductible donations in Harnell's name may be made to the USC Thornton School of Music, noting "Harnell Music Scholarship" on the check, and mailed to the Joe and Alice Harnell Scholarship Fund, USC Thornton School of Music, Los Angeles, CA 90089-8051.




Ceremony featured Best Song performances by Timberlake, Sting, Legend
Ellington, North, Goldsmith, Rorem, Schickele among top recordings
Composers Johannsson, Richter explain what happened
Composers Poledouris, Rose added to Hall of Fame