Print this article
OBITUARY...


August 15, 2005

Author/Editor Clifford McCarty Dead at 76

Hollywood historian was a leading film music authority
by Jon Burlingame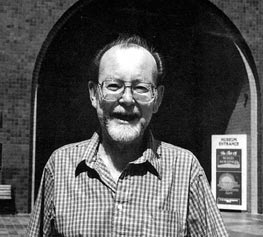 Clifford McCarty, the author of several film books including the seminal movie-music reference Film Composers in America, died early Saturday morning, August 13, at his home in Topanga, Calif., after a long battle with emphysema. He was 76.

McCarty was one of the most respected authorities in the field of film music for more than half a century. In 1953, he published Film Composers in America: A Checklist of Their Work, the first attempt at creating a comprehensive list of composers and orchestrators and their credits in American films.

No one was more meticulous in his research than McCarty, so it took more than forty years for the second edition to materialize. Oxford University Press published the 534-page Film Composers in America: A Filmography, 1911–1970, in 2000, and it was hailed by critics as "a landmark," "definitive" and "indispensable."

McCarty's work, which took him inside the music departments of nearly all the major Hollywood studios, enabled him to identify the composers and orchestrators of 20,000 scores composed over nearly six decades of American films (including documentaries, short subjects and cartoons) – without having to depend on often inaccurate and sometimes nonexistent screen credits.

He contributed articles on composers and film-music issues to a number of magazines and scholarly journals, including Down Beat, Films in Review, Film and TV Music, Pro Musica Sana, and the Music Library Association's Notes. He also penned several of the composer entries in The New Grove Dictionary of American Music (Macmillan, 1986).

McCarty was also the author of Bogey: The Films of Humphrey Bogart (Citadel Press, 1965) and Published Screenplays: A Checklist (Kent State University Press, 1971); co-author, with Tony Thomas and Rudy Behlmer, of The Films of Errol Flynn (Citadel Press, 1969), and co-author, with Gene Ringgold, of The Films of Frank Sinatra (Citadel Press, 1971).

He was one of the founders of The Film Music Society (in its original incarnation as The Society for the Preservation of Film Music) and served as the first editor of its quarterly journal, The Cue Sheet, from 1984 to 1987. He continued to contribute articles to The Cue Sheet, most recently its issue dedicated to composer Stanley Wilson in 2001. He also edited the Society's first book, Film Music 1 (Garland Publishing, 1989) and created the comprehensive indexes for the Society publications of Elmer Bernstein's Film Music Notebook and Film Music 2 (both 2004).

McCarty was born in 1929, graduated from Los Angeles State College in 1953, and spent most of his life in the book business. During the early 1950s, he worked at the Pickwick Bookshop in Hollywood; from 1958 to 1980 he operated the Boulevard Bookshop on Pico Boulevard in Los Angeles. After he closed the Pico location, he continued to operate a mail-order book business out of his home in Topanga Canyon.

Survivors include his wife of fifty years, Maxine; three children and five grandchildren.




Ceremony featured Best Song performances by Timberlake, Sting, Legend
Ellington, North, Goldsmith, Rorem, Schickele among top recordings
Composers Johannsson, Richter explain what happened
Composers Poledouris, Rose added to Hall of Fame