Print this article
FMS FEATURE UPDATE...


November 14, 2005

Film Scoring: Behind the Scenes Exhibit Now Open

Singer-turned-photographer Sally Stevens captures movie composers at work
by Marilee Bradford
Many of film music's most important faces are on display in Film Scoring: Behind the Scenes, a unique exhibit of black-and-white photography by Sally Stevens running through December 9th at A Studio Gallery in Studio City, California.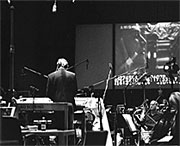 Brian Tyler Scoring Constantine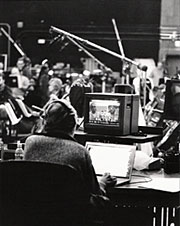 A scoring session on the Newman Scoring Stage at 20th Century Fox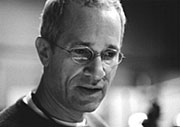 James Newton Howard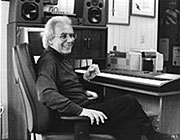 Lalo Schifrin writing music in his home studio
The exhibit features never-before-seen photographs of film and television composers at work, among them: John Williams (during Minority Report sessions, 2002), Jerry Goldsmith (Star Trek: Nemesis, 2002), Dave Grusin (Even Money, 2005), James Newton Howard (Hedalgo, 2003), Alan Silvestri (Van Helsing, 2002), Randy Newman (Cars, 2005), Michael Giacchino (Lost, 2005), James Horner (Beyond Borders, 2002), Shirley Walker (Willard, 2003), Lalo Schifrin (home studio, 2004), Mike Post (Law and Order: Trial by Jury, 2005), Marco Beltrami (Flight of the Phoenix, 2004), Teddy Castelucci (Rebound, 2005) Thomas Newman (Finding Nemo, 2003), Christophe Beck (The Perfect Man, 2005) and many others.

Also featured will be images of the scoring stage environment – engineers, editors, contractors, musicians, orchestrators and conductors collaborating to make music for the silver screen.

The exhibit – which attracted an impressive crowd of industry notables at its November 6th gala opening – is dedicated to the memory of Stevens' brother, musician Jon Clark, who died last June at the age of 54.

With nearly 300 films and countless television, recording and radio credits to her name, Stevens' unprecedented career as studio singer, voiceover artist, choir contractor and vocal coach has placed her behind the scenes and dead center in recording sessions with the most important and talented composers in Hollywood.

Five years ago, she began photographing some sessions as a means of archiving the overall scoring stage environment for historical reference and preservation. She regrets not having begun the process sooner.

"In each period of the history of film music are those legendary composers and musicians who stand out above the rest," Stevens explains, "and, sadly, many of these personalities left us before I began doing my series of photographic coverage. I feel a sense of urgency to continue documenting those who still work on the scoring stages and who may not be part of the scene five or ten years from now but who will surely be long remembered."

Curator is Angela Cartwright. A Studio Gallery is located at 4260 Lankershim Blvd. Hours are Monday through Thursday, 9 a.m.–4 p.m., Friday 9 a.m.–12 p.m., or by appointment.

For more information, please call the gallery at (818) 980-9100 or visit http://www.astudiogallery.com.




Ceremony featured Best Song performances by Timberlake, Sting, Legend
Ellington, North, Goldsmith, Rorem, Schickele among top recordings
Composers Johannsson, Richter explain what happened
Composers Poledouris, Rose added to Hall of Fame