Print this article
UPCOMING EVENT...


January 23, 2006

Elmer Bernstein Tribute by Young Musicians Foundation

The Age of Innocence, Hawaii to be presented by top youth orchestra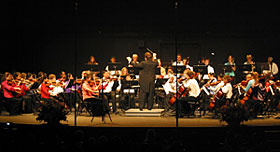 The Young Musicians Foundation Debut Orchestra will present a special concert celebrating the music of award-winning film composer Elmer Bernstein on Sunday, February 12 at 4:00 pm at the Smothers Theatre, Pepperdine University in Malibu, California. The event is being underwritten by YMF supporter Steven Spielberg.



Among Bernstein's various works to be performed will be Overture from Hawaii, a suite from The Age of Innocence, and his Concerto for Guitar featuring Jonathan Roth. Also on the program is the world concert premiere of film composer John Ottman's Suite from X2: X-Men United.



The Debut Orchestra is the second oldest pre-professional training orchestra in the U.S. and is administered by the Young Musicians Foundation (YMF), a Los Angeles-based non-profit corporation providing financial aid, training and education, competitions and performance opportunites for some of the finest young musicians.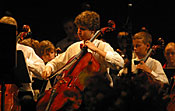 The Smothers Theatre is on the Pepperdine University campus at 24255 Pacific Coast Highway in Malibu. Attendance is free. For more information, please call the YMF at (310) 859-7668 or visit their website at http://www.ymf.org.