Print this article
FMS BRIEF...


February 13, 2006

Oscar nom'd short features score by NYU's Ron Sadoff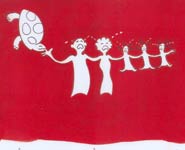 Among this year's Oscar nominees for best animated short film is The Moon and the Son: An Imagined Conversation by John Canemaker, director of the Animation Studies program in the Kanbar Institute of Film and Television at NYU's Tisch School Of the Arts.



The film's original score is by Ronald Sadoff, Director of Film Scoring in the Music Department at NYU Steinhardt.

Sadoff, along with FMS Board member Gillian B. Anderson, heads The Film Music Society's East Coast Branch, housed in NYU Steinhardt's Department of Music and Performing Arts Professions.

Produced by Peggy Stern, The Moon and the Son features the voices of actors Eli Wallach and John Turturro as it explores the difficult emotional terrain of father/son relationships. The film premiered at MoMa and will air on Cinemax in 2006.